Treasure Talk
Welcome to Treasure Talk, Minelab's metal detecting blog. We've handpicked the very best and most knowledgeable contributors to present regular metal detecting blogs on topics close to their heart. Plus we're asking you to join in and make it a conversation.
Our bloggers share their product knowledge, detecting experience, personal tips and tricks and anything else they want to discuss that might be of interest to the detecting community.
To contribute you will need to create a Minelab login here.
Back
Evan Granger - Introduction to Treasure Talk
February 12, 2013 04:20pm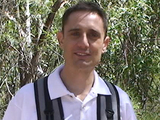 I'd like to introduce Evan Granger as our newest member to Minelab's Treasure Talk blog. Evan has been detecting since he was 12. Accompanied by his father and mentor, his first major find was a Mason jar cache of Morgan Dollars and other coins left in a post-hole bank. After that, he was hooked and has been metal detecting for over 28 years.
Evan has experience with several types of metal detectors and enjoys using new technology. His ability to quickly pick up a metal detector and understand it has been a key factor to his success. He loves the aspect of recovering and saving lost history.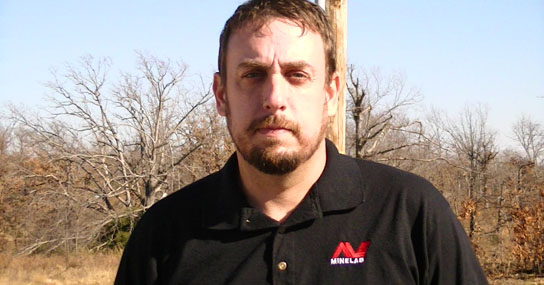 You may recognise Evan from his website and YouTube Channel called 'Gonehunting for History'. His love of history has prompted him to build that website and YouTube channel for his discoveries.
Evan has given several of his Oklahoma finds to local museums, the Oklahoma Historical Society, the Oklahoma Archaeological Survey, and to other treasure hunters who might not have a chance to see these finds.
Recently, with the addition of the CTX 3030, Evan has helped many new users adapt to the new detector and gained some notoriety for a simple program called "Gonehunting's Settings". The simplicity of these settings and his ability to explain them has helped a lot of newcomers to the
CTX 3030. We have had several users claim that with Evan's help they were able understand and become proficient with their new metal detector.
Along with several other detectors, Evan has a great deal of experience with the X-TERRA 70,
E-TRAC, Excalibur II, and CTX 3030.
We feel Evan's experience and willingness to help others will be a boost to the Treasure Talk Blog.
Welcome to Treasure Talk Evan!
Brenton O'Brien
Comments
To make comments you must be logged in, please note comments will not display immediately due to moderation
Thank you! It is an honor to say the least....
Evan
Gonehunting for History
Posted By: gonehunting on February 13, 2013 06:48am
I think you will be very happy with Evan Granger. He is truly a person that loves helping people.
Posted By: gare on February 13, 2013 12:21pm
Thank you for the support Gare...
Evan
Gonehunting for History
Posted By: gonehunting on February 18, 2013 07:15am
Can you help me out please!!!!!!, I bought the E-TRAC in January of this year and am having problems putting on the right settings. I want coins, relics and jewelry but I am just digging up junk. Can you help me out on what to put down on all my settings for this. This is my first Minelab and I am very new with this detector

Thanks for the help

Joe lawless
Posted By: Jlaw882 on August 12, 2013 10:57pm
Joe, I understand having a new detector without any direction can be frustrating. This is a loaded question and I will try to help.
The "basics" that helped me was to run the machine in these settings.
If you don't have a "target garden" I would suggest making one. I can help you with that later.
I used the Coin mode with these settings:
First noise cancel whenever you turn the machine on.
Sensitivity-Auto+1 or +2. +1 will be more stable, until you get the machine down and should suffice.
Tones-Multitone. If the tones are too much for your ear, switch to 4 tones it will lessen the "scrambled" sounding tones. Just pay attention to the screen to see if the cursor is being consistent when checking a target.
Sounds-Conductive
Threshold-Normally I would have it just above barely audible. Since you are new, having it to where you can hear it, will show you that the machine is working (threshold will be quiet over trash). It will also let you hear how trashy the site is that you are hunting. If the threshold is constantly quiet you might want to find a less trashy spot to hunt, until you "get" what good targets sound like and how they respond. Again, a test target garden will help here.
Threshold pitch- is more of a preference. I had mine at low frequency hum, as to not be overpowering, later switching to high to help with the silver targets.
Response-Normal
Variability-29 along with Limits at 29 this should provide the most definition between the targets ID.
Fast-On. This will help to define the targets when in heavier trash. Now this is where most people's problem is. Just because this setting is on, doesn't mean you can swing it like a weedeater. The machine is doing a lot with each swing. My advice is to swing slow as you can stand it, and then slow down some more. You will start to notice more definition between each target when you do. Watch a few videos that show the hunter scanning the targets before he/she digs.
Deep-off This for extremely deep conductive targets and can sometime cause falsing on shallower iron targets. The machine is plenty deep without this setting.
Trash-High. For now.
Volume Gain, at max till you get the machine down. After some time you may lower it to help audibly id deeper targets without looking at the screen.
Trash density- if you are listening to the threshold and it is nulling out a lot then change this to high.
Ground-if you are in an area where the mineralization is a problem, then difficult. If not, then Neutral. If you are not sure leave it in Difficult. The correct setting can sometimes lessen false signals, but don't rely on that.
Now air-testing is in no way a way to judge a machine, but it can help tune your ear to what good targets can sound like. Lay several good and bad targets out with 1 to 2 foot separation and listen. Won't be a real world representation, but it can help.
Finally, go slow, take your time and give the machine's electronics a chance to do what it was built for.
Hope this helps...
Evan
Posted By: gonehunting on August 14, 2013 01:36am
Thank you very much, I jumped into this model from a lower brand name and it is a little overwhelming. I will give it a try today and start my adventure tomorrow. I live in the Kansas City area and am looking to join some clubs to get to know more people to go out with. Just retired out of law enforcement so I am also hoping to help out local departments if needed.

Thanks again,

Joe Lawless
Posted By: Jlaw882 on August 14, 2013 10:56pm