Treasure Talk
Welcome to Treasure Talk, Minelab's metal detecting blog. We've handpicked the very best and most knowledgeable contributors to present regular metal detecting blogs on topics close to their heart. Plus we're asking you to join in and make it a conversation.
Our bloggers share their product knowledge, detecting experience, personal tips and tricks and anything else they want to discuss that might be of interest to the detecting community.
To contribute you will need to create a Minelab login here.
Back
CTX 3030 Integrated GPS and Mapping
May 24, 2012 10:37am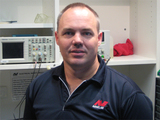 You can now see why I haven't been posting for a while. The team creating the CTX 3030 have put in a big effort to pull together all the features and technologies that make up this detector.
With the exception of my fridge, there is almost nothing that can't be enhanced by adding GPS. The CTX 3030 has an integrated GPS that can be enabled simply by going to the settings menu and setting GPS Enable to On. You can keep the GPS turned on all the time as it doesn't have much of an affect on battery life. Having the GPS on all the time allows you to see what ground you have covered and allows you to record the location of your finds.
The CTX 3030 is capable of recording several types of geo data:
A WayPoint is a location and perhaps a time that you would like to record. This can be used to navigate to or as a general location guide.
A FindPoint is also a location with the addition of target data. When you store a FindPoint, you also record with that FindPoint the last FeCo target ID and depth as well as the mode settings that were used to find that target.
A GeoHunt can record the path that you have walked as well as the WayPoints and FindPoints that you have stored while recording your GeoHunt.
While you can see all of this information on the detector's map screen and navigate back to all of these points, the real power can be seen when you combine the CTX 3030 geo data together with the XChange 2 PC application. This allows you to visualise these points and trails over satellite imagery as well as combining your latest finds with other finds that you have made over time. You can also maintain a personal database of your finds by adding notes and photos to all of the FindPoints stored on your PC.
Integrating a GPS receiver with your metal detector has really opened up new potential. Now you are able to ensure that you have covered all the area that you need as well as visualise your finds in an integrated environment.
Look out for my next Treasure Talk post that will go into more technical detail about the GPS system used in the CTX 3030.
Good Hunting!
Phil Beck
Comments
I'm interested in the accuracy of GPS, wasn't there a variance on the resolution depending on the signal capability from the sats(DGPS), I see you are going to discuss tech aspects in the next inst. Thanks for an informative video.
Posted By: DDazzzle on May 24, 2012 05:07pm
I disagree, if you have had a pint or two and looking for the fridge, GPS might come in handy when you have had one too many LOL :)
Posted By: BigNorm on May 25, 2012 01:34am
Comments are closed for this post