Treasure Talk
Welcome to Treasure Talk, Minelab's metal detecting blog. We've handpicked the very best and most knowledgeable contributors to present regular metal detecting blogs on topics close to their heart. Plus we're asking you to join in and make it a conversation.
Our bloggers share their product knowledge, detecting experience, personal tips and tricks and anything else they want to discuss that might be of interest to the detecting community.
To contribute you will need to create a Minelab login here.
Back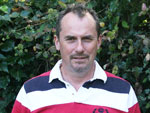 Gordon first started coin hunting on parks and commons in Buckinghamshire and soon amassed many thousands of coins dating back to the 17th century. Not content with this he started researching areas that had yielded older finds and in 1987 found his first hoard of 627 Roman silver denarii. This find transformed his hobby into a fulltime pursuit and it wasn't long before his exceptional discoveries were being featured in treasure hunting magazines.
In September 2000 Gordon and his detecting buddy made their best discovery to date, a pot containing two Bronze age neck Torcs and three heavy bracelets. The five gold items weighed in at over 2Kg, and were later valued at £290,000.
His last exceptional find was again down to researching an old hoard originally discovered in 1849. The Whaddon Chase hoard was a scattered hoard of Celtic gold staters and Gordon surmised that as the original hoard had been scattered by the plough, some must have been missed in the hunt to recover them. Sure enough, 75 coins were soon found using a Minelab Explorer and GPX-4000.
You may recognise Gordon from his film work for Minelab, MLOtv and for his involvement on the forum minelabowners.com. He first tried his hand at filming when he was invited to participate in the X-TERRA production. He then continued working with Gary Brun and Pat Watson (Mapletree Studios) on further work including the "Shallow water hunting" DVD. Gordon has brought his detecting experience to the production team, and they now produce many instructional films for MLOtv.com and MDUNI.com.

Gordon is an expert with the complete Minelab range, including the latest GPX 5000, however, the FBS detectors (E-TRAC, Explorer, Safari) are his favourite.
Posts
One of the EQUINOX's best features is its strong Target Identifications (TIDs) system. I've never seen a detector able to give such reliable TIDs at depth like the EQUINOX can. Not only in Multi-IQ (multi-frequency), but also in all single frequencies, and the TIDs for non-ferrous targets are stable across modes and frequencies. ..
December 21, 2017 10:47am
The EQUINOX has proved to be a very lucky metal detector for me during testing. From the countless hours of field trials for Minelab, amongst the many Roman and Medieval coins and artefacts, I've been fortunate enough to find three pieces of small gold... so far!
November 02, 2017 09:09am
I've been testing Minelab's NEW PRO-FIND 35 pinpointer for a while now. During testing I started to better understand Minelab's patented DIF (Detector Interference Free) technology.
I first experienced strong pinpointer interference while using the GPX 5000 and a large mono coil, searching for single coins buried at depths of over 18"...
Today I'm going to reveal a technique used by many successful detectorists who search for ancient coins and artefacts. This technique utilises the greatest tool at your disposal - your eyesight.
You will also need to learn to recognise common pottery throughout different periods of history; Google is great for this.
Late last year I finally managed to get a trip Australia. This was primarily a business trip but I included a second week to get a taste of Australian gold prospecting.
The state I was visiting was Southern Australia, not an area well know for finding nuggets like those of Victoria or Western Australia. But that's where I had an ace up my sleeve; I have good friends Trevor Ferraresso and Trevor Clark who knew where to take me to maximise my chances.
February 23, 2017 12:03pm
Many years ago while researching for the TV show Hoard Hunters (History Channel), we looked at a site near Whaddon Buckinghamshire where a hoard had been found in the 19th-century. This hoard of Roman coins were unearthed while the field was being excavated for land drainage. A pot was hit and coins spilled everywhere, so there was a good chance a few had been missed and that would make a great TV show to watch... if only we could find the spot.
I sometimes wonder if a new product truly out performs previous designs. Or is it that you rush back to your favourite detecting sites, full of confidence after reading initial reports... and then find targets missed on previous hunts that were within the capabilities of your old machine.
About a year ago I received a Coiltek 14" Elite mono coil. I could instantly see a marked improvement over my grey 14" mono coil.
While metal detecting in the fields of Europe, I often find coins and artifacts from a time period stretching over 4,000 years. Most of the copper alloy finds have a green verdigris patina, silver is grey and gold is usually gold colored. On some occasions I find an item that appears to be un-hallmarked gold, but because of ground conditions I can't always be sure...
I was really eager to get my hands on the new GPZ 7000, as a lot of the functionality was borrowed from the CTX 3030, a machine I know well. I was particularly interested to see the improvements made to the CTX 3030 features and related products.
I have been travelling to Costa Rica for a few years now, taking a metal detector in my hand luggage in the hope to find some gold nuggets out in the jungles.
Over the years I've had reasonable success using the Minelab GPX 5000, last year finding 4 grams including a 1-gram nugget on my hotel's beach. Okay, this is not the greatest of examples of success, but considering the challenging environment it's not surprising I list this meager gold with pride.
Found 36 Results, displaying 1 to 10