Treasure Talk
Welcome to Treasure Talk, Minelab's metal detecting blog. We've handpicked the very best and most knowledgeable contributors to present regular metal detecting blogs on topics close to their heart. Plus we're asking you to join in and make it a conversation.
Our bloggers share their product knowledge, detecting experience, personal tips and tricks and anything else they want to discuss that might be of interest to the detecting community.
To contribute you will need to create a Minelab login here.
Back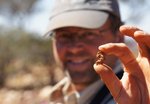 Steve got his first metal detector in 1972 and has been metal detecting ever since. Steve and a friend started a mining supply business while in high school that turned into one of the largest in the country. They sold the business to their employees in 2010 and since then Steve has been a full-time prospector, writer, and metal detecting consultant. He also enjoys building websites and puts a lot of effort into www.detectorprospector.com as a resource for prospectors.
Here there is a great amount of information freely available to help both beginners and experienced prospectors choose the right detector for their needs, such as Steve's Guide to Metal Detecting for Gold Nuggets and Steve's Guide to Differences of Minelab SD, GP, & GPX.
Steve is from Alaska and spent his life there prospecting and developing mining claims as a successful side business. His passion for metal detecting also lead to travels to the Lower 48, Australia, and the UK on various adventures. The long Alaskan winters interfered too much with Steve doing what he desired and in 2013 he moved to Reno, Nevada. Now the prospecting never stops!
Steve would be the first to admit his interest in metal detecting borders on obsession. He enjoys all metal detecting whether it is nugget detecting, or jewelry, coin, relic, or meteorite hunting. He relies on a wide range of detectors with an emphasis on high performance and cutting edge technology. Steve says he "steers clear of brand name preferences" due to his desire to use whatever works. Two detectors that work best for him currently are the Minelab GPX 5000 and CTX 3030, but he has used many other Minelab models over the years.
Posts
February 04, 2019 03:57pm
I made my first visit to the U.K. in 2010 in search of Celtic gold. I attended a Minelab conference just prior to that visit and was asked what detector I was going to use. A Minelab was not on my list. Why? At that time, Minelab was synonymous for "low and slow" detecting, with slow being the main problem. The farm fields I was to hunt in England were huge, and in my mind, ground coverage was paramount. I wanted a detector that I could swing fast all day long, something light in weight and with a fast recovery time.
Fast forward to 2018 and a return trip to England for another go at those huge farm fields and Celtic gold. This time I was packing two Minelab Equinox detectors, one with the stock 11" DD coil, and the other with the new 15" x 12" DD coil. My first trip had not produced the Celtic gold I was seeking, and this time I was going all in with the Minelab Equinox in the hope that it would do the trick for me.
September 06, 2018 01:51pm
Metal detecting for gold nuggets is one of the most difficult detecting tasks, and learning to run a VLF detector in highly mineralized ground will challenge even the best detectorists. There is more to this subject then can be covered in a brief article but I will try and offer some tips to get people started with the Minelab EQUINOX for gold nugget detecting.
This blog entry may help give some insight into metal detecting in U.S. parks with lots of modern trash. It also illustrates how somebody like me experiments with different discrimination settings. In my view it is this kind of experimentation that best teaches you the ins and outs of any new detector…
Metal detectors, decades ago, had very limited depth capability. Therefore, increasing detection depth was a prime focus for all detectorists. Metal detector advertising has always made "more depth" part of the selling point for most new detectors. This focus on "more depth" made sense for a long time but, more recently; it has been shown that more depth is only part of the equation…
I have seen some confusion on the internet regarding the differences between the Minelab EQUINOX 600 and EQUINOX 800. I think that the EQUINOX 600 is being somewhat overlooked because it's not the "top model" but, in my opinion, it is incredible value for a remarkably low price. I hope this blog will clear up any confusion and, in the process, show why I think the EQUINOX 600 deserves a second look by some people…
Happy New Year!
This is a follow up of my previous blog about finding a couple Mercury dimes in a row with the EQUINOX. There is important information there about ground conditions and so if you have not read it already now would be a good time...
December 12, 2017 10:20am
OK, I promised myself I was not going to do this - start showing finds yet. It seems kind of mean. "Look what I found" when nobody can get their hands on an EQUINOX yet.
I also have a real problem discussing depth on coins in my area, as do a lot of people in the Western U.S. but also anywhere mineralization is very high...
November 17, 2017 04:55pm
I have never seen anything like the pre-sale interest in the new Minelab EQUINOX in my over 40 years in the industry. We do see extreme interest in a new gold model, like the GPZ for example, but that is actually very limited to the prospectors. Other detectors have had major interest before details have been known, only to drop off rapidly when the reality is underwhelming. I think Minelab has been wise doing a slow reveal, as the EQUINOX just keeps looking better the more you know about it.
I am just back from a little detector outing and while I was at it I reflected on how once again I seem to do things a bit differently than other people. I am usually shy of talking about my specific settings because I am the last person to claim I know what's best when it comes to other people and how they detect. Ground conditions vary as do people's personal styles and preferences.
It has certainly been a busy year for me so far, with not as much detecting time as I would like. Still I have been getting out a little and thought it was time to share a few photos.
My first couple of bits were found with the Minelab GOLD MONSTER 1000 (GM 1000) on some scouting runs. I am liking this detector as a grab and go unit for checking areas out quickly. I am not trying to hunt for max performance but instead looking to cover a lot of ground quickly to check things out. I have learned the GM 1000 auto sensitivity actually suits me well for this. I just fire up the detector in All Metal Mode, full volume, and start with auto sensitivity set at Auto+. Then I just start swinging. If noise intrudes (usually in salt areas), I will back down to Auto (there are just two Auto settings available Auto and Auto+).
Found 27 Results, displaying 1 to 10