Treasure Talk
Welcome to Treasure Talk, Minelab's metal detecting blog. We've handpicked the very best and most knowledgeable contributors to present regular metal detecting blogs on topics close to their heart. Plus we're asking you to join in and make it a conversation.
Our bloggers share their product knowledge, detecting experience, personal tips and tricks and anything else they want to discuss that might be of interest to the detecting community.
To contribute you will need to create a Minelab login here.
Back
PRO-FIND and DIF Technology
November 02, 2017 09:09am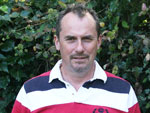 I've been testing Minelab's NEW PRO-FIND 35 pinpointer for a while now. During testing I started to better understand Minelab's patented DIF (Detector Interference Free) technology.
I first experienced strong pinpointer interference while using the GPX 5000 and a large mono coil, searching for single coins buried at depths of over 18". At these depths on such small targets, I need to have everything running as quiet as possible. So when I started getting a faint target response on every left-swing of the detector, I realised something was falsing the detector.
I checked the usual things; Mobile phone, shoes and even removed the coins from my pocket, but still the falsing continued. It was only when I swung my non-Minelab probe 3' from the coil the penny finally dropped. The falsing was from a switched-off pinpointer I was wearing on my belt.
Later I compared three non-Minelab probes and the new PRO-FIND 35 over various metal detectors. I soon realised I would never use a non-DIF probe again! Extra noise is just not acceptable if you're trying to get the best out of your "top of the range" metal detector.
While in Australia I recreated a shorter test for Minelab showing a top competitor's model being swung over a GPX 5000, after first trying the PRO-FIND 35. You can see the test here:
Learn more about DIF Technology here.
Comments
To make comments you must be logged in, please note comments will not display immediately due to moderation