See fantastic Minelab finds from our users or share your very own Minelab Success Story. We'd love to hear what people are discovering with their Minelab Detectors.
By submitting your story, you enter the Find of the Month competition where we give away a USD 250 voucher in Minelab products and assorted Minelab branded accessories to the winner.
EQUINOX 600
December 07, 2018 11:48am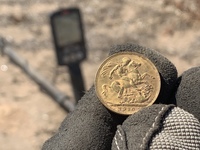 From it's natural state of gold in the rich grounds of Western Australian gold fields to the Perth mint then stamped in 1910, into a 22ct Gold sovereign, lost not long after it was made to be found 108yrs ...
EQUINOX 800
December 06, 2018 10:47am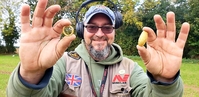 I was on day 7 of my recent 7-day trip to the UK. It was 10 o'clock in the morning. I was daydreaming while I was wandering around another big English farm field. Dreading the inevitable time that the trip would ...
GPZ 7000
December 03, 2018 11:13am
Headed up to Meekatharra for a week, pushing 38 degree heat, heading to a 40e I had submitted when the camper wheel cracked in half on a dirt track also damaging the shocks, was not a good start. Finally got to ...
EQUINOX 800
December 02, 2018 03:58am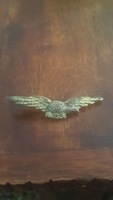 While detecting an 1871 park on a path that used to be a race track I unearthed this magnificent cap badge. Found Dec 1st in Guelph Ontario. This holds significant historic value to me as it belonged to a man willing ...
EQUINOX 800
November 29, 2018 07:18am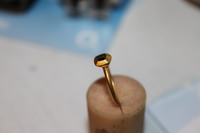 Morning Everybody, Yesterday was the first time I used the new 15 inch coil with my EQUINOX 800. I was out in very quiet fields, I could hear a few irons, but nothing interesting. Then at a moment, ...
CTX 3030
November 28, 2018 12:52pm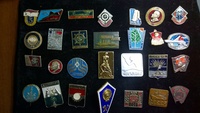 This time I was invited to the old Soviet house. I was like a search engine. I was told that about 20 years ago the collection of badges was lost.The child played, and then they disappeared. the search began near ...
Explorer Series
November 27, 2018 05:36am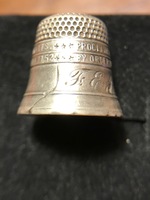 This old park in upstate N.Y. has given up a lot over the years and is still giving it up. Only six inches deep I pulled this beautiful sterling silver liberty bell thimble its made buy the Simons Brothers & ...
CTX 3030
November 26, 2018 01:44am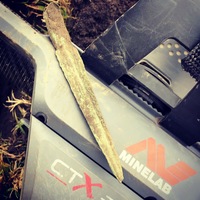 Indian culture and artifacts are present but not often dug or found in the Midwest and my home state, Wisconsin. Old culture copper is a dream dig for me. Spent my whole season running my Nox 800 and was currently chasing 20 ...
EQUINOX 800
November 25, 2018 12:36pm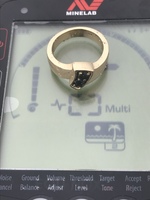 Hit the beach with the EQUINOX 800. Got into the low tide wash and moved slowly. Hit one fishing weight then another. Few more steps and boom! 13.4-gram 14 k gold man's ring with green stones. Few more feet a ...
CTX 3030
November 25, 2018 11:58am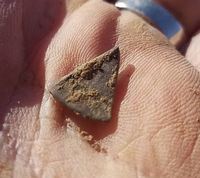 Everyone knows that corner of your favorite field. The corner that seems to accumulate all the tin cans, pop tops and nails. The corner that the plow picked to dump every piece of junk there is. Well that's my ...
Found 2,617 Results, displaying 1 to 10