16 Dec 2015
XChange 2 Access Issues
Troubleshooting XChange 2 Login Issues
With our transition to the new minelab.com website, there have been some intermittent access issues with XChange 2.
Please follow the steps outlined in this notice to assist with resolving any XChange 2 login difficulties.
14 Dec 2015
PRO-ALLOY Gold Purity Tester
The Easy Way To Test Gold & Platinum Jewelry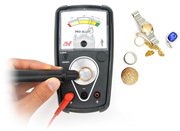 Minelab is excited to announce the new PRO-ALLOY gold purity tester, the newest addition to our range of quality accessories.
The PRO-ALLOY measures the purity of gold and platinum alloys and is a great addition to any detectorists tool kit.
12 Oct 2015
GPZ 7000 Software Update
Better Ground Balancing = Finding More Gold!
Minelab is pleased to announce the first software update to our GPZ 7000 detector!
This free update incorporates a new Auto Ground Tracking Algorithm resulting in improved Auto Ground Balance functionality.
29 Apr 2015
GPZ 7000 battery options and compatibility with CTX 3030 batteries
The GPZ 7000 uses an advanced internal regulated power supply designed to provide maximum efficiency from the Minelab Li-ion bettery packs. Due to the high power requirements of the GPZ 7000, it is NOT designed to be used with the CTX 3030 alkaline battery pack, or individual AA cells.
Found 4 Results, displaying 1 to 4