Treasure Talk
Welcome to Treasure Talk, Minelab's metal detecting blog. We've handpicked the very best and most knowledgeable contributors to present regular metal detecting blogs on topics close to their heart. Plus we're asking you to join in and make it a conversation.
Our bloggers share their product knowledge, detecting experience, personal tips and tricks and anything else they want to discuss that might be of interest to the detecting community.
To contribute you will need to create a Minelab login here.
Back
EQUINOX finds 2 Mercury Dimes during testing
December 12, 2017 10:20am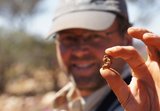 OK, I promised myself I was not going to do this - start showing finds yet. It seems kind of mean. "Look what I found" when nobody can get their hands on an EQUINOX yet.
I also have a real problem discussing depth on coins in my area, as do a lot of people in the Western U.S. but also anywhere mineralization is very high. Despite all the talk of 10" plus dimes back east or wherever, I never see that kind of depths normally. The soil here is basically decomposed granitic rock and it is heavily laden with magnetite. Just drop a magnet and pick it up, and a big glob of magnetic soil comes up with it.
People who have not experienced this type of soil may find it hard to imagine, but getting a dime past 6" here is very hard without using a PI. The dime signal tends to have the target ID shift down until at about 6" it turns into a ferrous reading. You can detect it, but it sounds like a nail, and if you have ferrous rejected, you never hear it at all. The problem is not so much depth but accurate target ID at depth, and this magnetite really interferes with detectors.
I moved to Reno just over 4 years ago, and have spent considerable time park detecting, mostly while testing various detectors one against the other. And the story never changes, no matter the machine. That 6" depth barrier keeps appearing. What that means is that when I say I hit a dime at 7" it is a "whoa, wow" kind of thing. The other issue is the parks have been pretty well detected, and so for the last four years I have made few silver coin finds with VLF detectors. The explanation locally is that the parks are just hunted out, though some experiments with PI detectors had me thinking that was not true. The coins are there in at least some places, but all the detectors over them so far were missing them. Not because they were super deep, but because they read as ferrous targets past that 6" mark.
Now I am not going to make crazy claims about the EQUINOX blowing past this barrier and doubling depth, but it is unlocking stuff by seemingly getting that "extra inch". I think there is more to it than that however. EQUINOX is not only getting that little bit better target ID at depth, but also unlocks coins next to trash, so it is a double whammy.
What this leads to is repeated moments like just what happened to me a couple of hours ago. I went to this little park where I found a 1944 Mercury dime with the EQUINOX previously. The first silver I found in the park actually. I needed to check some things and figured it was a good spot for a test run.
So I fire the EQUINOX up, and in twenty feet I get a nice high tone, quite clear. An easy signal. I dig a plug and sure enough, at about 6" I see silver. And out pops a 1916 Mercury dime! It was worn but the date was clear. I did not want to rub it and so wrapped it and stuck it in my pocket to examine closely when I got home. The whole time I am wondering if it is one of "those" 1916 Mercury dimes, but for the life of me I could not remember which mint mark was the magic one.
So I swing 10 more feet, and another nice clear high tone. It ends up being a second Mercury dime at about 8"! – a 1941 S Mercury.
OK, I hear everyone going "yeah, yeah, 6" or 8", big deal". That's the whole problem with talking depth with people around the country. All I can tell you is you just don't go to a local park here and walk thirty feet and dig two mercury dimes in a row in ten minutes. In fact can't remember the last time I dug two mercury dimes in a row, it's been that long.
The thing is, I did nothing special. Sensitivity was 22 out of 25 and no magic settings. Just nice high tones, dig, coins. That simple. And decent signals at that.
That 1916? I washed it and put it under my 30X scope and the D I hoped for (I had checked the internet by now) turned out to be an S instead. A 1916 D in this condition might be worth around $1000 but the 1916 S, well, this is more like a $3 coin. But an exciting find all the same when it happened, that's for sure.
If this was all there was to it, it honestly still would be no huge thing, but this kind of thing happens repeatedly and often with the EQUINOX. I sure like this detector!
Reproduced with permission from the Detector Prospector forum:
http://www.detectorprospector.com/forum/topic/4738-mercury-dime-teaser/
Comments
To make comments you must be logged in, please note comments will not display immediately due to moderation
Steve, I'm happy to hear the Equinox performed so well for you on silver. Thanks for the good news and report!
Posted By: cabochris on December 13, 2017 11:16am
You are welcome. I consider myself quite fortunate to have been involved in this project and am proud of the tiny part I played. I think this is a revolutionary detector and it is really cool to be able to point at it and say "I had a little something to do with this". This is the first detector I have ever laid hands on that screams "21st Century" - thanks Minelab!!
Posted By: Steve Herschbach on December 15, 2017 05:56am
I really appreciate the report of your findings. They have given me hope to conquer some of my sites that only a PI can accomplish. I am very confident the Equinox will open up the hunted out sites in my area. I'll report soon

Thanks again
Mark Gillespie
Virginia, USA
Posted By: markg on January 18, 2018 11:15am
I really hope it performs better than AT Pro. Not that my AT is not good, because i have found some good stuff. Just hoping it does good a few inches deeper and see what ive been missing. Thanks for your input.
Posted By: Fedexguy on February 06, 2018 03:48am
Steve what mode were you in, or did I miss that above, I assume park 1 or park 2?
Posted By: TheMentalDetectorist on February 15, 2018 02:36am
I was using Park 1 and as mentioned no special settings other than bump the sensitivity up a bit. The best part is this was an earlier less optimized version of the software - things have only gotten better since.
Posted By: Steve Herschbach on February 16, 2018 11:22am