Treasure Talk
Treasure Talk Team
Evan Granger
RSS Feed
Treasure Talk Team
Treasure Talk
< Back
Evan Granger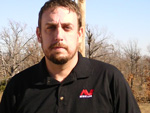 Evan has been detecting since he was 12. Accompanied by his father and mentor, his first major find was a Mason jar cache of Morgan Dollars and other coins left in a post-hole bank. After that, he was hooked and has been metal detecting for over 28 years.
Evan has experience with several types of metal detectors and enjoys using new technology. His ability to quickly pick up a metal detector and understand it has been a key factor to his success. He loves the aspect of recovering and saving lost history.
You may recognise Evan from his website and YouTube Channel called 'Gonehunting for History'. His love of history has prompted him to build that website and YouTube channel for his discoveries.
Evan has given several of his Oklahoma finds to local museums, the Oklahoma Historical Society, the Oklahoma Archaeological Survey, and to other treasure hunters who might not have a chance to see these finds.
Along with several other detectors, Evan has a great deal of experience with the X-TERRA 70, E-TRAC, Excalibur II, and CTX 3030.
Found 5 Results, displaying 1 to 5