Treasure Talk
Welcome to Treasure Talk, Minelab's metal detecting blog. We've handpicked the very best and most knowledgeable contributors to present regular metal detecting blogs on topics close to their heart. Plus we're asking you to join in and make it a conversation.
Our bloggers share their product knowledge, detecting experience, personal tips and tricks and anything else they want to discuss that might be of interest to the detecting community.
To contribute you will need to create a Minelab login here.
Back
Randy Horton (Digger) Introduction to Treasure Talk
September 21, 2010 03:18pm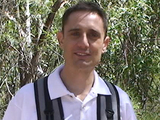 I'd like to introduce Randy Horton as a new guest member to Minelab's Treasure Talk blog. Randy (or Digger as he's known in many circles) has been metal detecting in the Central US for over 38 years and has a passion for finding old coins at old sites. In addition to performing field tests for several manufacturers (including the Minelab X-TERRA), he also serves as Moderator on the X-TERRA forum at Find's Treasure Forums (findmall.com). Digger has written several articles, and enjoys sharing his thoughts and tips on various aspects of the hobby. His detectors of choice include the X-TERRA, E-TRAC and Musketeer Advantage. If you like to hunt for old coins at old sites, make sure you introduce yourself to Digger.

This past year was a special year for Digger and his X-TERRA 705. His first memorable experience came when he was asked to look for a silver cache believed to have been buried at an old farm site. Within a few hours of arriving at the site, visiting with the landowner and surveying the area, Digger recovered (and returned) more than 1,000 Walking Liberty Half Dollars, 100 Morgan Silver dollars and an assortment of smaller silver coins. Digger knew going in that there would be no finder's fee. But that didn't stop him from making his best effort. As he explains, "it's all in the hunt". He believes his reward was the satisfaction of finding the cache and returning it to the descendants of the man who buried it.

Later in the year, his X-TERRA 705 led to his recovering an extremely rare 1877 Indian Cent, a valuable find that earned him recognition in Western and Eastern Treasure's Annual "Best Finds" Issue. In July of this year, good fortune struck again as Randy uncovered yet another 1877 Indian Head Cent with his E-TRAC. Finding one is an outstanding accomplishment. Finding another is simply unheard of. Randy may say "it's all in the hunt." . Can you say Karma?

So keep an eye out for Digger's Treasure Talk contributions. His first post will be a two part guide on discrimination for US coin shooters using the X-TERRA 705.
Welcome Randy!
Brenton O'Brien
Comments
Comments are closed for this post