Welcome to my first blog post on the CTX 3030 metal detector. I'm so excited to share with you the features and abilities of this new metal detector. In the coming weeks I will explore in detail this detector's potential. So let's briefly review its key features.
GPS
Probably the biggest feature is the built-in GPS system, and its ability to track where you have walked and found targets. This feature has already found a hammered coin, when I noticed I'd neglected to search an area. Walking back into a gap in the map screen, I received a signal that produced a beautiful Elizabeth I halfgroat.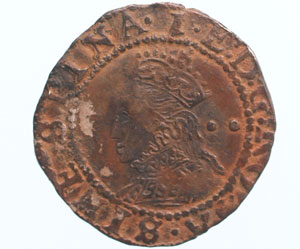 Elizabeth I halfgroat
PC mapping with XChange 2
This is a feature never seen before. Imagine you're viewing a field you're about to search on Google maps, and you see an interesting feature or crop-mark. With XChange 2 you can drag a WayPoint onto the map over the area of interest… then drag the WayPoint onto your detector. When you later arrive at your field, guided by the CTX 3030's Navigation Tool, you can walk straight to the area you saw on the map.
This is just the tip of the iceberg! Imagine if you could see on a map everywhere you searched in a detecting session, and view everywhere you found a good target… then add more day's sessions, building up a picture of everywhere you ever searched on that field. You would then be able see the areas that were consistently producing finds… and any areas you had missed.
Colour Display
At last we have the display that will show the difference between ferrous and non-ferrous targets visually. This is key when using other features like 'Target Trace' and 'Target Trace Pinpoint'. More detail on those later!
Waterproof
I have waited years for a waterproof FBS type detector, and have even tried to build my own.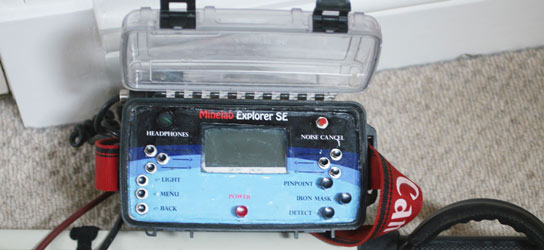 My customised waterproof Explorer SE
The CTX 3030 is going to revolutionise shallow water hunting. It has revitalised all my worked out streams. I have already found a Roman brooch in an area that hadn't produced much since the turn of the millennium.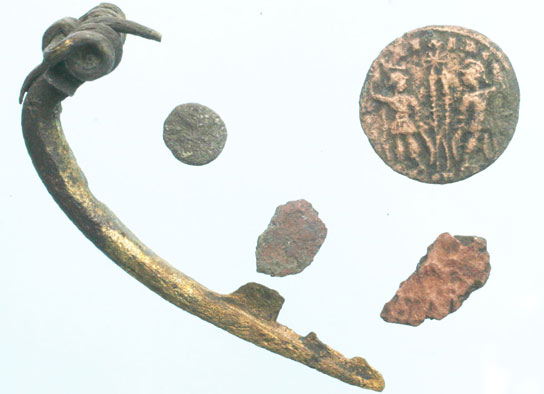 Roman Brooch found with CTX 3030 metal detector
Wireless Audio
Minelab should be applauded for not going down the dedicated wireless headphone route. Instead their wireless module allows me to use my custom headphones designed specifically for my hearing. The module works with all the popular headphones like Gray Ghost and Pro Gold's. If you don't use headphones, it doubles as a wireless external speaker.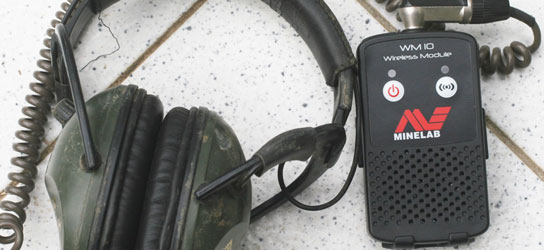 My custom headphones plugged into the WM 10 wireless audio module
FeCo Discrimination
This is where you'll find the greatest detecting improvements, full control! The ability to change every parameter of a Tone ID Profile. Amongst the Tone ID Profile Type choices you have two, four and multi-tones… in both ferrous and conductivity sounds.
You also have a combined Tone ID Profile Type, so you can now control FE tones (iron-tones) in ferrous sounds separately to good targets remaining in the conductivity sound range.
I will go into this in greater detail in future blogs… it's fantastic!
I have so much I want to share with you about this detector, including some killer programs. So keep tuned, and remember to check back for my latest Treasure Talk blogs.
Gordon Heritage
Now go out there and find something
www.mlotv.com
Comments
Gordon

That's a good start and I look forward to your further disclosures of the CTX 3030 useability in the UK environment.The mapping and GPS function was exactly as I had imagined and this feature will certainly enhance my present system for recording finds locations and detected field coverage, making it easier to pick up previous detected areas when returning to the same field.
I have the CTX 3030 on order and just itching to go.

Many Thanks
Randy Dee
Posted By: Randy Dee on May 12, 2012 12:25am
Thanks Gordon for those first impressions. How do you think the CTX 3030 will perform on salt water beaches?

Marc
http://www.hollandsbrook.com
Posted By: marcm on May 13, 2012 02:28am
The wireless option would have made a lot more sense if they had just incorporated bluetooth. Than you could use any number of great lightweight bluetooth headphones on the market. As is, the wireless module that you attach your headphones to seems very silly.
Posted By: pursual on May 15, 2012 06:04am
Hi perusal,
The CTX 3030 uses specially developed Wi-Stream wireless technology to ensure that there is no perceivable delay while maintaining high quality audio.
Bluetooth has an audio delay that would make pinpointing a target difficult as the target would appear to be later in the sweep than it actually is which would be quite frustrating.
Keep an eye on Treasure Talk as there will be more information about Wi-Stream and the CTX 3030's wireless options in the near future.
Brenton O'Brien
Posted By: Brenton. on May 15, 2012 09:50am
Having looked at the Specs for the CTX 3030 I noticed that the weight for this new machine is 5.2 Lbs compared to the 4.8 Lbs for my E-TRAC.

I am 66 years old and the only complaint I have for my E-TRAC is that 4.8 Lbs, and now this new machine is even heavier. I love my E-TRAC and wouldn't give it up for anything but the weight does force me to slow down on how much time I can use it in the field. I wish Minelab would find a way to make their machines lighter as well as more officiant in the field.
Posted By: tippyhound55@yahoo.com on May 15, 2012 03:25pm
Weight is only one part of the equation. Balance is the key factor when swinging a detector around for extended periods, and for this the CTX 3030 passes with flying colours. The balance of the detector is great, thanks in part to the Li-Ion battery sitting right out the back past the armrest. The upper shaft design, angle of the handle, and the excellent armrest all combine to make it very nice to swing.
Posted By: Nenad on May 16, 2012 09:35am
@ Randy Dee

Thanks for your positive comments, I'm sure you'll enjoy using the new detector.

@ Marc

It works perfectly well on salt water beaches. I'm just back from Norway where I searched the beach and in the surf. No problems at all... and found 13 rings, two of which were gold.

@ pursual

IMHO this is a far better system than if we had received headphones with integrated WiFi.... I would rather use my preferred headphones than something not suitable for my personal comfort.

For example; The Koss head are great quality, but fall off my head every time I bend over... so I don't use them. So imagine how I would have felt if Minelab had built the WiFi into UR30's.

The WM 10 is a brilliant decision, I just drop it into my phone pocket inside my jacket and forget about it.

@ tippyhound55@yahoo.com

There's no denying the CTX is heavier than an E-TRAC, however I don't notice it in use because the balance is perfect. During testing I occasionally couldn't use the CTX 3030 (incase I was seen) so had to switch back to the E-TRAC. This is when I noticed I fatigued more than when using the new machine.
Posted By: IronheartedGog on May 16, 2012 08:36pm
@tippyhound No one mentioned WiFi. And there are hundreds of different Bluetooth headphones to choose from.

@Brenton I find the argument against Bluetooth pretty week as many people have had great success setting up their detectors with Bluetooth adapters, and many more people enjoy lag free stereo audio on Bluetooth headphones while watching movies every day. I think the only point of the CTX 3030 wireless adapter is to sell another accessory, at the expense of consumer choice.
Posted By: pursual on August 25, 2012 01:42pm
Comments are closed for this post