Treasure Talk
Welcome to Treasure Talk, Minelab's metal detecting blog. We've handpicked the very best and most knowledgeable contributors to present regular metal detecting blogs on topics close to their heart. Plus we're asking you to join in and make it a conversation.
Our bloggers share their product knowledge, detecting experience, personal tips and tricks and anything else they want to discuss that might be of interest to the detecting community.
To contribute you will need to create a Minelab login here.
Back
CTX 3030 Target Separation... more than a random choice
June 28, 2013 10:35am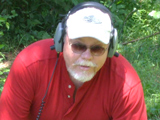 The CTX 3030 incorporates four different Target Separation options... Low Trash, High Trash, Ferrous-Coin and Ground-Coin. Selecting the proper Target Separation option will allow you to optimize the signal processing of your CTX 3030, to best match your site.
Low Trash Target Separation should be used in areas with low to moderate levels of mineralization and minimal amounts of metallic trash. When passing over multiple targets in "Low Trash", the CTX 3030 will respond to the target providing the strongest target signal, possibly masking a smaller adjacent target. Therefore, it is not recommended to use "Low Trash" in areas with a high concentration of metallic targets. In areas with lesser amounts of metallic trash, "Low Trash" allows the CTX 3030 user to create a very narrow discrimination pattern, based on accepting only the target property values you wish to hear.

High Trash Target Separation can be used effectively in areas with low to moderate levels of mineralization. "High Trash" implements advanced signal processing which recognizes accepted targets, even if the rejected targets are providing a stronger target signal. "High Trash" also allows the user to implement a faster sweep speed, and an aggressive amount of discrimination. These can become very important factors when you have a large amount of ground to cover, in a relatively short period of time.
Ferrous-Coin Target Separation provides an extremely stable Target ID for those detecting in areas of low mineralization. And it does an amazing job of sorting out coins from the ferrous trash. The advanced signal processing of "Ferrous-Coin" minimizes the blending of ferrous trash and coin type targets, even when directly adjacent or stacked.
When the coil passes over multiple targets simultaneously, each target will be identified and their FE/CO "locations" will be displayed as cursors on the color LCD screen. If the targets are within the accepted range of your discrimination pattern, (as a ferrous target would be when hunting with minimal discrimination) the Target ID will display the value of the coin type target(s).
Ground-Coin Target Separation is designed for use in areas with high levels of mineralization. Highly mineralized ground will typically "splatter" the Target ID values of coin type targets. When selecting "Ground-Coin", the advanced signal processing of the CTX 3030 minimizes the blending of ground and coin signals, resulting in a more accurate Target ID. In areas of very high mineralization, enabling ground balance on your CTX 3030, combined with Ground-Coin Separation, will offer more Target ID stability with less ground noise.
NOTE: Highly conductive targets, such as US silver dollars, can give different target ID's depending on which Target Separation feature is used. So make sure you familiarize yourself with the Target ID numbers representing targets you seek, to avoid walking away from what could have been "the find of a lifetime".
Randy Horton (Digger)
You'll never know for sure......unless you dig it!
Comments
To make comments you must be logged in, please note comments will not display immediately due to moderation
Thanks, Randy. Your posting came just in time to simplify a recovery hunt in an area around a mid-1840's farm house which had suffered a fire. In addition to all the nails thrown out when the house was gutted before rehab, there was a century and a half of discarded bits of iron farm equipment buried beneath the grass. We also have a lot of iron in our soil, and with acid rain to form nicely conductive rust pockets, discrimination can be a nightmare. Your comments on FC separation saved me hours of fruitless probing and made the valuables stand out clearly.

Thanks again, the Niffler
Posted By: Niffler on July 08, 2013 09:40pm
Thanks Niffler. I appreciate hearing that my post saved your hours of probing, and helped you simplify the recovery. Knowing how to select the proper Separation mode on your CTX 3030 can make the difference between a successful hunt and a day of frustration. Glad to hear you had success. Thanks for taking the time to post your comments. HH Randy
Posted By: Digger on July 10, 2013 01:47pm
Hi randy
I live in Australia and have been going around a few old battery mining sites. I've had moderate success with a few coins, buttons and other stuff. The areas are littered with nails and other metal and I just cant seem to get my settings correct.
I've been using the coin setting and modifying it a bit
Do you have any advice or suggestions on settings that I could try
Posted By: dasqer on June 21, 2014 10:59pm
I find the explanation on FCoin to be different from the Table Matrix.
The description reads
The advanced signal processing of "Ferrous-Coin" minimizes the blending of ferrous trash and coin type targets, even when directly adjacent or stacked.
However the X in the diagram is selected under Non FE Clutter??
Posted By: decanfrost on March 26, 2016 10:51am