Treasure Talk
Welcome to Treasure Talk, Minelab's metal detecting blog. We've handpicked the very best and most knowledgeable contributors to present regular metal detecting blogs on topics close to their heart. Plus we're asking you to join in and make it a conversation.
Our bloggers share their product knowledge, detecting experience, personal tips and tricks and anything else they want to discuss that might be of interest to the detecting community.
To contribute you will need to create a Minelab login here.
Back
A return to Oak Island, North America's oldest treasure hunt
February 16, 2017 10:21am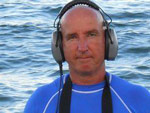 I was again honored to be invited back to Oak Island in Nova Scotia Canada to take part in Season four of the History channel show "The Curse Of Oak Island." The team called me excited about having more areas to search on the Island, I packed my trusty CTX 3030 and travelled up to Canada hoping to deliver on my promise of doing my famous gold dance.
The season has not concluded yet, so you will have to watch all the episodes to see if I bust a move on Oak Island. I have already been featured on several episodes of season four and some of the coins and artifacts I recovered have been shown, including a hand forged iron "Ship spike" recovered in the famous swamp.
The swamp is normally under water and off limits, but the team secured a permit to drain the swamp and lucky me got a chance to get down and muddy with my CTX 3030. The iron ship spike was possibly from a Spanish galleon and matches similar 400 year old ship fasteners in the local nautical museum.
On an area of Oak Island that I doubt had previously been searched, I filled my finds pouch with interesting old finds. Amongst those interesting old finds, were a handful of George II English coppers from the early 1700s and a curved metal plate with an engraved script name.
The curved metal plate is possibly the butt plate of an old pistol, and I am really looking forward to seeing if the show researchers can discover the history of the name. I also found flat buttons, musket lead, grape shot and other signs of a British military presence on Oak Island. Unfortunately, I cannot reveal other items recovered in the area that made me come to the conclusion the site was a 1700s British navy camp or encampment.
My discoveries at the site certainly raised a few questions, were the English on Oak Island searchers or did they deposit treasure? There are well documented stories in Nova Scotia of the British navy in the area during the late seventeenth and eighteenth centuries. Perhaps, bringing treasure from Europe or the Americas to hide for safe keeping. I am almost certain I discovered a site on Oak Island the British military made camp in the early 1700s.
These are not the only old English coins I have recovered on Oak Island, two years earlier I recovered English copper coins from the late 1600s and early 1700s at a couple of different beaches. One English early 1700s copper coin I recovered near the swamp, was featured during season two of the show.
These rocky shorelines and mineralized sandy beaches around Oak Island, are just the type of beaches Minelab metal detectors excel on. I never had to dumb my metal detector down to use it, or worry about false signals using my CTX 3030 anywhere on Oak Island. All I had to do was be in the moment and enjoy the thrill of knowing my next signal could possibly make treasure hunting headlines around the world.
One lunch break with the cast and crew, a camera guy asked if I had a chance to check out my coin and artifact display at the local museum. That really brought home what treasure hunting is all about to me, having the chance to bring long lost coins or artifacts to light and adding a few lines to the local history books if possible. Being a veteran beach hunter, I rely on my beach hunting savvy, outside the box search techniques and choice of treasure hunting equipment to fill my finds pouch.
I have been a Minelab user for a very long time and for good reason, they have the best tools for a hardcore beach and water hunter like myself, from the early Sovereign models to the CTX 3030, I know I am using the best. The reason I mention this, is because when you get the chance to search a storied place like Oak Island, the last thing you have to worry about is your choice of treasure hunting equipment.
In my beach and water hunting related books, I write about searching different areas of the beach and using versatile treasure hunting equipment. On my last trip to Oak Island I took that to the max, from searching inside thick wooded areas in pouring rain, to searching in the muddy swamp and squeezing in between huge boulders on the beach. You name it, me and my trusty CTX 3030 and different size search coils tried it on Oak Island, you don't want to know how long it took to clean my battle tested CTX 3030 before packing.
Traveling to detect is always the best way to find out what works and what does not, last year I took three different overseas metal detecting trips and learned something from every trip. I am more than willing to share my experiences traveling with the CTX 3030 and a future Treasure Talk blog about this subject is in the works.
Check out the show to see if I finally get to do my gold dance on camera and please feel free to ask any questions about the show or how to get the best out of the CTX 3030 at the beach.
Happy treasure hunting trails.
To see more coins and artefacts I recovered while Minelabbing on Oak Island, go to my website at www.garydrayton.com and check out my Treasure Finds page. You can also watch my videos on YouTube here.
Read my previous blog Metal Detecting Adventures on the Infamous Oak Island here.
Gary
Comments
To make comments you must be logged in, please note comments will not display immediately due to moderation