2009
Greatest Hobby in the World!
Excalibur 1000
June 30, 2009 04:14pm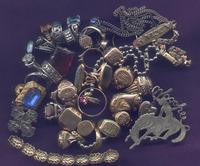 I have been an active metal detector enthusiast since 1979 and have used every brand of machine that has been made. BFO, TR, VLF, Pulse and others. For the majority of that time I was convinced that I was using the "best" brand available. In July of 2001 I decided to invest in a machine that would be primarily used in the water. I've been a scuba diver since 1981 and my most valuable discoveries had been found in the water.
After much research and actually speaking with other detector owners I purchased the Minelab Excalibur 1000. Since that time I have recovered 486 rings and literally thousands of coins. Many are pre-1900. The best ring found was a 1/3ct VVS1 Diamond Solitaire in 14kt. That was a sweet surprise for my lovely wife! My favorite coin recovery would have to be the 1854-O Half Dime in EF-40 condition. Not really that valuable but a wonderful looking Seated Variety coin.

My friends all have hobbies like golfing, fishing and hunting. That's fine, but my hobby is the "Greatest Hobby in the World!" I leave home broke and come back with diamonds, gold, silver and some pocket change! Get yourself a Minelab Excalibur and find out what I'm excited about.

There is WEALTH in the WATER!

Doug B - Minnesota, USA
Comments
To make comments you must be logged in, please note comments will not display immediately due to moderation
Back to List