21 Dec 2017
EQUINOX Series Release Date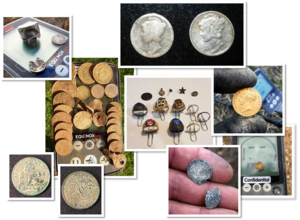 Minelab is pleased to announce that the new EQUINOX Series of detectors is expected to be available for purchase worldwide from late January, 2018 onwards*.
Since we first announced EQUINOX at Detectival in September, there has been unprecedented market interest in this product range.
Volume production of detectors has started and will continue at a rapid rate across December and into the new year. Detectors are expected to be delivered to our sales channels in late January, subject to transportation scheduling.
Customers who have pre-ordered detectors should thus expect to start receiving them from late January.
We appreciate everyone's patience in waiting for EQUINOX to be released and your ongoing interest.
Here are some of the more interesting finds from testing that has occurred in recent months.
Find out more information about EQUINOX here.
Watch our EQUINOX videos here.
Read the latest EQUINOX Treasure Talk blog from Gordon Heritage here.
Read all of our EQUINOX Treasure Talk blogs here.
*Initial availability will be limited in all regions due to the very high pre-release demand. Please contact your local dealer for specific price and availability information. We will be doing our best to get detectors into the hands of our valued customers as soon as we possibly can.