Treasure Talk
Welcome to Treasure Talk, Minelab's metal detecting blog. We've handpicked the very best and most knowledgeable contributors to present regular metal detecting blogs on topics close to their heart. Plus we're asking you to join in and make it a conversation.
Our bloggers share their product knowledge, detecting experience, personal tips and tricks and anything else they want to discuss that might be of interest to the detecting community.
To contribute you will need to create a Minelab login here.
Back
Unwrapping the GPX 5000
June 30, 2011 11:30am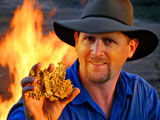 We hitched up the caravan to our truck and headed across the Nullarbor plains on another gold seeking adventure. This time round I was asked by Minelab Electronics to do some field-testing on the upcoming GPX 5000 especially the new timings that would be incorporated in the design.
In recent years Frieda and I have discovered life is much simpler to pick a good area to camp and stay put rather than packing up and moving camp every few weeks, this way things are more settled for the boys with their schooling but also less complicated for us in general having to deal with the logistics of packing up and unpacking.
The area we chose this time was an old favourite because we had spent many wonderful days there in times gone by right back to before our twin boys were born, so our old camp site was greeted with hoots of laughter and joy when it came into view after the long sojourn west from our home in Clermont in Central Queensland.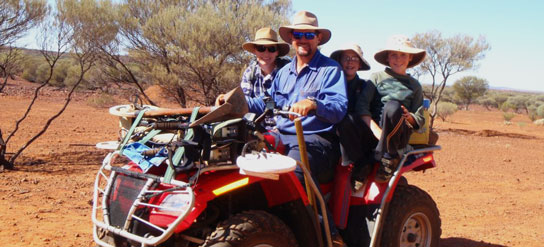 Enjoying a family day on the Quad
I chose this area because there is gold to be had right near the camp along with productive areas not that far away for both Frieda and now the boys who are starting to show a keen interested in gold and what it can do for their pocket money situation. Finding out in advance the whole area we were interested in was 'pending' from a mineral claim point of view meant we could avoid all the paper work required with seeking permissions or obtaining access through the section 20A permit system.
In all we spent a wonderful memory-making 3 months in that one campsite with both our boys managing close on an ounce of gold each during our stay. Part way through I was sent an early pre-production GPX 5000 detector, the testing of which was aided by our chosen location. Being able to easily access a variety of areas to give the detector a thorough work out is always paramount to good feedback for the developers.
This time round I decided to keep a video camera with me strapped to the front of my quad at all times to film any memorable occasions that might arise during the course of the season. One unforgettable event was on someone's old patch I discovered where there was lots of banded iron scattered about. Someone had obviously found a lot of gold because there were dig holes everywhere but what was surprising was the amount of small nuggets that had been missed due to the concentrations of Banded Iron which make a very loud signal sound just like a good target in Normal timings. The new Fine Gold timings were a real treat to use in this situation, especially coupled with the supplied 11" Monoloop Commander coil.
The Banded Iron still made a bit of a noise in Fine Gold but the nuggets stood out loud and clear in comparison so I was having a blast digging 30 pieces in a 2-hour session. One day I decided to film the way the detector behaved on the Banded Iron and 'demonstrate to camera' why I was finding so much gold missed by the original operator, so I set the camera up and then deliberately targeted a couple of large pieces of Banded Iron in the vicinity to establish the scene, what I didn't count on was the booming signal I received near the largest slab. The resultant footage almost makes it seem surreal when I play it back but very clearly explains why the nugget was missed and why the GPX 5000 found it so easily. You can see the footage and a lot more I shot during our prospecting trip in WA on our new instructional DVD titled "Unwrapping the GPX 5000".
Frieda and the boys are now settled in Clermont as we enter a new phase in our lives where I travel away alone to prospect for a few months at a time and my family stay at home, but like all the hurdles that come along in life you just learn to deal with them one day at a time. I look forward to the day when Frieda and I can once again travel and our boys join us in our adventures as young adults if they so choose.

Jonathan Porter
Comments
Hi JP

Just watched your video of the GPX 5000. Very informative and what I liked is the "Tips" about prospecting in general. Not everything is about the machine and it's technology, but the application of the machine and Timings was of great value. It will defenitely help me to improve my practical application. Especially now, with the "mineralisation" of the ground very high since the above-average winter rain in WA. I am looking forward in getting out to experiment with the Timings.

Best

Barnie
Posted By: elbaan@bigpond.com on August 04, 2011 11:23am
Thanks Barnie for the kinds words. I try very hard to make the DVDs not only informative but also entertaining. This production is slightly different to those done by us in the past with a lot more 'in the field' actual detecting in real gold fields environments, rather than lengthy 'to camera' sections, we tend to find our viewers learn a lot more when the videos are shot this way plus it has the added fun factor of lots of gold being found. :-)

Regards

Jonathan
Posted By: Jonathan Porter on August 08, 2011 05:42pm
Comments are closed for this post