I've been metal detecting since 1972. I like to hunt for old coins at old sites, with the term "old" being relative to where I live. During that time, I've owned and used just about every land detector that hit the market. As time went by, like many of you, I found many of the "old reliable" sites that I hunted were producing fewer and fewer good coins. When Minelab included me in the original field tests for the X-TERRA, I had high hopes that this new technology called VFLEX would increase my finds. As soon as I got the X-TERRAs out in the field, I knew I had my hands on something special.
Since field testing the X-TERRAs, I've spent thousands of hours hunting homesteads, picnic grounds, fairgrounds and old parks. While detecting, I paid close attention to the subtle changes in the audio tones, adjusted the settings in an effort to fully explore the functionality and made direct comparisons of the various coils at each of the sites I hunted. I took hundreds of pages of notes as to what worked best for me, and why. Documenting the functionality and performance of the X-TERRA became almost as much of a passion as detecting itself. I've shared many of my "opinions" in posts made to the X-TERRA forum, where I serve as Moderator. And more recently, I've written several blog posts here on Minelab's Treasure Talk blog. Eventually, these "notes" made their way to the folks at Minelab. I am pleased to announce that Minelab not only honored my request to make this information available at no cost, but their graphic designer has greatly enhanced my "text version", transforming it into a 96 page eBook entitled "Understanding your X-TERRA" which is available on this website.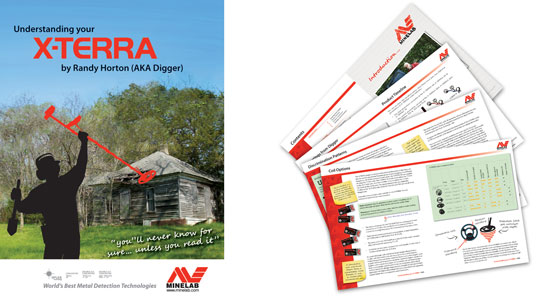 Understanding your X-TERRA eBook by Randy Horton.
"Understanding your X-TERRA" contains information on how to properly set up your X-TERRA, how to better understand its functionality and how to maximize its performance for specific sites. I've included my own personal "theories and opinions" on what works best for me, and why. For example, one section I call "Circular Discrimination" helps explain how the "wrap around effect" can be greatly reduced on deeply buried iron targets.
"Understanding your X-TERRA" also has a Question and Answer section where I was able to ask Dr. Laurence Statmatescu (Senior Technical Manager for the Minelab engineering team, and inventor of VFLEX technology) specific questions regarding the X-TERRA's functionality. I think you will find his answers quite interesting.
In addition to several pictures of the type of places I like to detect, I've also included pictures of some coins I've found while detecting. Among my favorites are the older "fresh from the field" silver coins and the three rare 1877 Indian Cents I've found.
In closing, I would like to take this opportunity to thank Minelab for making "Understanding your X-TERRA" available to those wanting to learn more about the X-TERRA. I would also like to thank the many folks who have participated in the X-TERRA forum at www.findmall.com. Without the interest and ongoing support of Minelab and literally thousands of X-TERRA users, this eBook would not have been possible. I hope you enjoy the eBook.
Please feel free to post your questions and comments to this blog post.
You'll never know for sure… unless you read it!
Randy Horton (Digger)
The complete eBook is available to download in PDF format here:
Understanding your X-TERRA (US Letter size)
Understanding your X-TERRA (A4 size)
Comments
Thanks so much for your work in this, implementing some of your suggestions for setting for my wife's 705 she has found 3 Mercs and one Silver Washington quarter in about 10 days time! Thanks to you and Minelab for being so helpful!
Posted By: Bell-Two on June 02, 2011 11:14pm
This is to say thank you firstly to Randy for writing this book and secondly to Minelab for agreeing to publish it and as a free download. While having been a Sovereign user for the best part of 15 years, yes, the XS is still going strong, I have just purchased an X-TERRA 70 so I am sure I will definitely enjoy this E-book
Posted By: DDazzzle on June 02, 2011 11:24pm
I want to thank Minelab for working with Randy on making a great book this will help me with my X-TERRA 705 one great MD. Im still learning the 705.

HH to all

Bob
Posted By: oldbob55 on June 03, 2011 05:11am
Thanks for the comments guys. I appreciate them, one and all. HH Randy
Posted By: Digger on June 03, 2011 10:39am
Well Done

Jeff
Posted By: TURNMASTER on June 03, 2011 01:49pm
Thanks Randy for writing such an informative book...and Minelab for making it available for free!!

Rick
Posted By: mt_vertcaver on June 03, 2011 02:28pm
Bought a 705 about a month ago and have gotten stuck. SO glad to have this manual to clarify settings etc. Just what the Dr ordered. The owners manual doesn't tell you how to really use it. Thanks for going to the trouble of sharing your experience! Born Free
aka RingadingGirl
Posted By: RingadingGirl on June 04, 2011 10:45am
Congrats Randy!!! We are lucky to have a guy like you! You just took all you years of hard earned knowledge and put it out there for the world to see without taking a cent. You are a pillar in the metal detecting community!

I hope all the good you do comes back to you ten fold!

Anthony
Posted By: antandshell on June 05, 2011 02:27am
wheres is the book i can not get it
Posted By: randy59 on June 06, 2011 12:44am
Hi randy59,
To download the eBook click on the 'members section' link (in red) at the bottom of Randy's blog post and login or create a free membership. You will then have access to download the eBook.
Enjoy,
Brenton
Posted By: Brenton. on June 06, 2011 09:53am
Thanks for the kind words and comments. I appreciate reading each and every one of them. As I pointed out in the eBook, this is not the final word on using the X-TERRA. That is a chapter you will have to write for yourself. But if this eBook helps you to understand the functionality of your X-TERRA, and you are better able to maximize its performance at your sites, I have accomplished my objective. Thanks again. HH Randy
Posted By: Digger on June 06, 2011 12:28pm
Hi. A great big thank you to Randy and Minelab for making this very informative book available for free.
Your generosity is beyond words.
Thanks again.

Rod.
Posted By: kurgenrod on June 10, 2011 07:04am
Thanks Rod, I appreciate your comments. Generosity has its own reward. My reward is simply knowing that people are reading the eBook and finding the information useful. Thanks again. HH Randy
Posted By: Digger on June 10, 2011 10:47am
Can't thank you enought
Minelab also
Posted By: leroy1937 on June 14, 2011 10:48pm
Thank you for your work on this book. I´ve been searching with X-TERRA 70 for four years and I read the eBook and found the information useful for me.

Marek Fox from Czech Republic :-)
Posted By: MarekFox1 on June 15, 2011 08:59pm
Again, thanks for all the kind words and encouraging comments. It is very rewarding to know that so many of you are finding the information useful. HH Randy
Posted By: Digger on June 16, 2011 01:22pm
Randy UPS just dropped my X-TERRA 705 off yesterday.I was having trouble getting going.Found your eBook and now I am ready to go.Thank you for taking time to help us understand how the 705 works.
Thanks again
John Horton TX (Aka BigJohn)
Posted By: BigJohn on June 26, 2011 08:06am
Thanks for your comments John. Good to hear you found the eBook and that it helped you to better understand your X-TERRA. HH Randy
Posted By: Digger on June 28, 2011 01:36pm
Thank you for this enlightening eBook.
I've had my 705 for 6 months and, after reading your book, will use the sensitivity setting for the first time! There are many excellent tips in the book too.

I am going to go out now to re-detect around the 16th century farm house and fields I have access to and see what I've missed...
Posted By: illbehappywithatorc on July 17, 2011 09:00pm
Thanks for the comments. I'm glad you've been able to pick up some tips from the eBook and hope you find more treasures from around that 16th century farm house. HH Randy
Posted By: Digger on July 18, 2011 11:46am
Quite frankly, the eBook was the deciding factor for my purchase of my 705. During my search for my first detector, and determined to stay within my budget, I narrowed my choices down to three contenders from three different manufacturers. There is a ton of information to review for a beginner like me, and your fine eBook helped me clarify my thinking that the 705 was the unit that had the capability that I needed. Further, some of the honest comments in parts of the eBook that illustrated the unit's possible limitations were much more helpful than the stream of polished advertising language that a newcomer might grow weary of reading. Randy and Minelab are to commended for publishing such a helpful piece... that's why I now have a 705.
Posted By: jpiii on July 26, 2011 01:39pm
jpiii, thanks for your kind words and your feedback on the eBook. I am glad that you found it informative and useful. As you eluded to, the eBook is an honest evaluation of my experiences with the X-TERRA Series, without an agenda. If you were able to learn something that improves your chances of success in the field, we've all accomplished our objectives. HH Randy
Posted By: Digger on July 27, 2011 01:18am
Comments are closed for this post