Treasure Talk
Welcome to Treasure Talk, Minelab's metal detecting blog. We've handpicked the very best and most knowledgeable contributors to present regular metal detecting blogs on topics close to their heart. Plus we're asking you to join in and make it a conversation.
Our bloggers share their product knowledge, detecting experience, personal tips and tricks and anything else they want to discuss that might be of interest to the detecting community.
To contribute you will need to create a Minelab login here.
Back
The New "Super Detector" from Minelab - the SDC 2300
June 26, 2014 05:05pm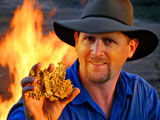 I have always wished for a metal detector that had the sensitivity to find those sub half-gram nuggets but at the same time ignore the mineralisation. Sure the GPX 5000 in Fine Gold with a small Monoloop coil attached does a pretty good job of things, but I always felt I was still a ways off from getting down to the sensitivity required for the tiny nuggets that are still sitting there for the taking, still waiting there patiently after all this time, waiting for something special to come along, something super. Enter the SDC 2300, that's "Super Detector COMPACT", and boys does it pack a punch!
The very first time I switched the SDC on I immediately knew this was what I had been waiting for since 1993. First gold target happened in less than a minute on an old boys shaker pile out the back of Tarnagulla in Victoria's Golden Triangle, second nugget happened less than 30 seconds later. More recently I got to test the SDC back on my home turf in Queensland were I'd spent 4 solid hours detecting a month or so earlier with [another brand detector] for no gold! I knew in my heart there was gold there but the effects of extreme variable mineralisation and high voltage power lines had taken their toll, not so with the SDC 2300. First nugget came within seconds, 2 hours later and I had 14 nuggets in my hand for 4.5 grams of gold. The "Super Detector" experiences kept rolling in from that moment, 9 "nugglets" each for myself and son for a few hours of brilliant father and son time, specimen gold I'd missed with the [other detector], tiny little 0.03 of a gram pieces within 50 meters of a high voltage power line. I made two short videos about this that you can also watch.
SDC 2300 Finds Gold in Field Test
In the end I lost count of the numbers of "nugglets" I found, but have made a pact with myself that each and every member of my family will have an SDC by Christmas this year and we will be going detecting together as a family this coming summer just for the sheer fun of finding gold.
The SDC 2300 is the most uncomplicated metal detector I have ever used, just switch on and go - it's that simple! It partners up brilliantly with the PRO-SWING 45 harness making for stress free detecting; just loop the bungee around the top of the handle just below the green Fast Ground Balance button, adjust to suit and you're away. The full time tracking auto ground balance is a thing of beauty even on the highest sensitivity setting (I use this setting almost all the time), occasionally I give the button a press and the coil a quick pump to be absolutely sure, but really there's rarely ever any need.
Finally I can go and have fun looking for tiny bits of gold again, minimal ground noise, minimal hot rocks, and maximum fun. This incredibly compact folded up piece of electronic wizardry, this new "Super Detector" from Minelab will be living permanently behind the seat of my 4x4, just waiting to be unfolded and let loose on those unsuspecting gold "nugglets".
Comments
To make comments you must be logged in, please note comments will not display immediately due to moderation