Treasure Talk
Welcome to Treasure Talk, Minelab's metal detecting blog. We've handpicked the very best and most knowledgeable contributors to present regular metal detecting blogs on topics close to their heart. Plus we're asking you to join in and make it a conversation.
Our bloggers share their product knowledge, detecting experience, personal tips and tricks and anything else they want to discuss that might be of interest to the detecting community.
To contribute you will need to create a Minelab login here.
Back
The CTX 3030 forces History to repeat itself
November 09, 2012 09:25am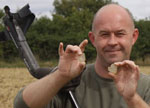 We have been searching a large Roman site for the past 16 years now. When we first discovered it and gained permission hundreds of coins came off it as well as many artefacts. Of course such losses are finite and over the years finds declined in number.
Back in the old days of our group I was the very first to get a Minelab Explorer and almost immediately my finds rate as I learned the machine`s capabilities rapidly escalated. I was easily achieving 100+ coins a day whilst varied detector owning colleagues were struggling to get 25-35. This went on for a few months, but my joy and top position was short lived and soon ousted as all my colleagues went and got Minelab Explorers too.
Their decisions were not one offs either... For previously every trip we had there (not just occasionally) I was annihilating them in both quantity and of course quantity leads to a greater chance of quality too... We still go to this site, but once again things of course slowly started to tail off. We frequently discussed what was still lying in the soil there at depths perhaps beyond our then owned detectors.
Well I have quite a few years experience in detecting now and have witnessed history repeat itself quite a few times. This was of course the first opportunity I have had to take the CTX 3030 onto this site which stressfully had not been deep ploughed AGAIN this year. However all was not lost for quite quickly small Roman coins started to flow into the finds bag, followed by a bronze Roman key, followed by a belt plate section, then a broken fibula brooch several Antoninianii including a nice one of Probus.
I could only spend about two hours here this day, but here is may haul.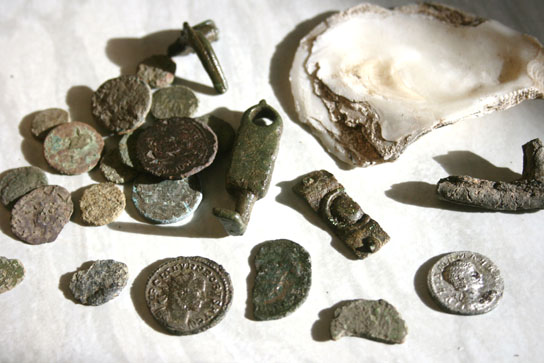 The others stayed for six hours and no-one came close in terms of volume of finds. So is it the CTX 3030`s superiority or my faith in its performance? Well I know the superiority is mostly responsible. But I like to think my faith plays a part too, a sort of connection between me and my machine.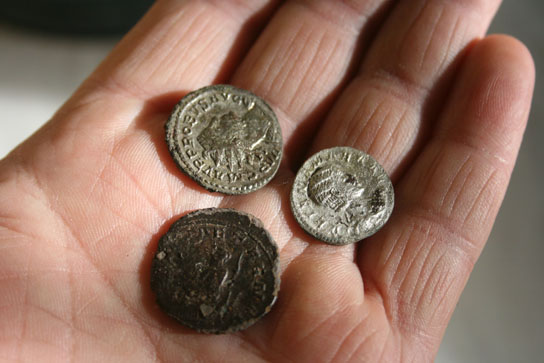 The real important question to me is now: if history is repeating itself once again, just how long have I got to enjoy and relish my finds rate? A few weeks perhaps a month or two (Christmas is looming eh?) at the very most I reckon.
Julian Evan-Hart
Comments
Comments are closed for this post