Treasure Talk
Welcome to Treasure Talk, Minelab's metal detecting blog. We've handpicked the very best and most knowledgeable contributors to present regular metal detecting blogs on topics close to their heart. Plus we're asking you to join in and make it a conversation.
Our bloggers share their product knowledge, detecting experience, personal tips and tricks and anything else they want to discuss that might be of interest to the detecting community.
To contribute you will need to create a Minelab login here.
Back
Minelab PRO-FIND 25
July 30, 2012 10:00am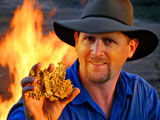 Being asked to have a play with the PRO-FIND 25 pinpoint probe lacked excitement for me based on past experiences with similar devices due to a number of factors. Firstly a lack of sensitivity to small nuggets especially in mineralised soils and secondly my GPX 5000 would pick up my previous pinpointer from a long way away even when the thing was turned off!
With the above in mind my first field trip was implemented with the PRO-FIND 25 complimenting the CTX 3030 and to this end it performed brilliantly allowing me to very quickly and easily locate coin targets in sensitive areas such as my local sports field where a minimalist softly, softly, approach is required. Thanks to the PRO-FIND 25 I was able to surgically remove the coins I found with near zero evidence of my having done so after I was finished. To that end I was openly invited by council staff to detect the location whenever I wanted which is a huge plus.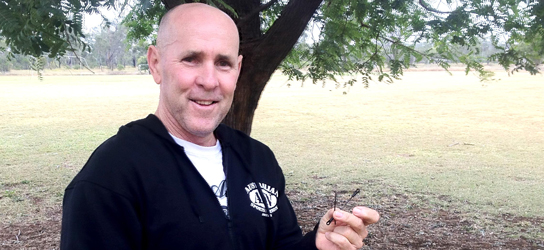 On a recent excursion I was approached by a council worker who had just finished talking with a model helicopter pilot down on the oval. Seems he had inadvertently smashed his chopper into a tree losing vital components in the process, of which on talking with his hobby supplier there were no parts available in the country. The Council guy had said hi to me earlier that day while I was detecting up near the canteen and subsequently came and asked me if I could help. Flicking my CTX 3030 into Relic mode I instantly got a loud signal in the area the hobbyist was searching, pulling out the PRO-FIND 25 I zeroed in on it in the grass triumphantly placing it in his hand, seconds later I repeated the exercise with the PRO-FIND 25 swiftly and easily pinpointing the second lost component. The end result was one very happy helicopter pilot and two big brownie points to the PRO-FIND 25 and the CTX 3030.
Next test was to see how the PRO-FIND 25 performed in the gold fields, so to that end I went detecting in a location I knew had plenty of smallish targets amongst some old diggings. First happy surprise was no response from my GPX 5000 when the PRO-FIND 25 is turned off. This is a big plus in my book and a major deal breaker for my other pinpointers when gold prospecting.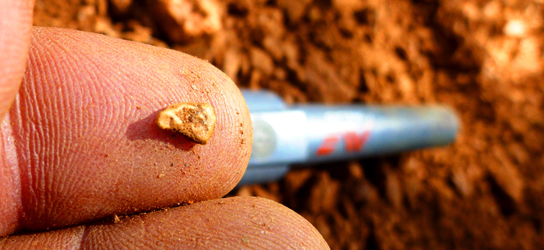 Next I found a nice mellow sounding signal and soon enough had it in the throw outs. Out came the PRO-FIND 25 and moments later I had a bright shiny little nugget in my hand, a relatively painless exercise after all.
In summary on tiny nuggets less than a gram you need to put in a bit of effort, but on stuff larger than a gram I was pleasantly surprised by the performance. I can see this little device becoming a permanent part of my kit especially in places like WA where the gold can be locked in cement requiring chiselling to get them out, having an accurate means of determining the exact location of nuggets in cement will save on a lot of blisters.
Jonathan Porter
The Outback Prospector
Aurum Australis
Comments
Comments are closed for this post