Treasure Talk
Welcome to Treasure Talk, Minelab's metal detecting blog. We've handpicked the very best and most knowledgeable contributors to present regular metal detecting blogs on topics close to their heart. Plus we're asking you to join in and make it a conversation.
Our bloggers share their product knowledge, detecting experience, personal tips and tricks and anything else they want to discuss that might be of interest to the detecting community.
To contribute you will need to create a Minelab login here.
Back
Large X-TERRA coil - The wait is over!
July 15, 2011 01:52pm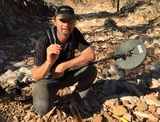 For several years I have been receiving regular emails from X-TERRA users asking, "When will Coiltek release a coil to suit my detector?". We have listened to these requests and I am now pleased to announce that the wait is over!
In a collaborative effort with Minelab, we have produced a 15-inch 'All Terrain' X-TERRA 7.5 kHz (medium frequency) Double-D coil that is fully compatible with Minelab's VFLEX technology.
I have been using the new coil locally, here in Adelaide, and have found it to perform very well, especially at the beach where it has already found a silver ring at approximately 10 inches and several coins that the stock 9" Concentric coil could not detect, due to them being out of range.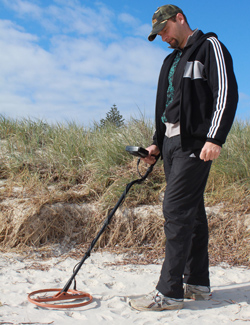 Me on the beach using the new 15-inch coil
The new coil is waterproof and comes with a skid plate already attached. It performs well in open fields and responds very well to targets at depth, which is one of its main advantages, DEPTH! Being the largest X-TERRA coil available at 15 inches round, you can expect to find targets deeper than any of the stock coils, so working those fields and beach areas that have already been searched will surely turn up more targets. Its size also allows for a broader search pattern so you can cover more ground in less time.
Coiltek has been developing aftermarket Minelab accessory coils for 15 years and, for several years before this time, we were manufacturing coils on behalf of Minelab. Right from the start we have been working hard on customer satisfaction not only from a service perspective, but also a product ability perspective.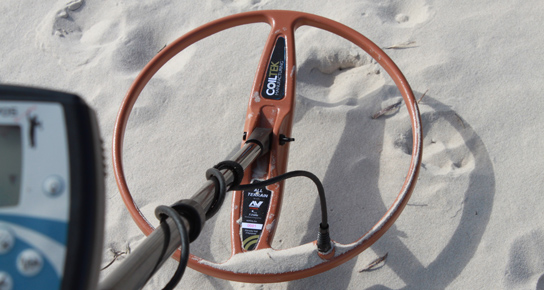 The larger size greatly enhances detection depth
The new coil will be available for sale around the world on August 1st 2011 and we expect there to be a strong demand for this fantastic new coil.

Further information is available on Coiltek's website: www.coiltekmanufacturing.com.au/x-terra
We are very excited about this new product from Coiltek and hope that this coil brings great success to all who use it.
Trevor Ferraresso
Comments
Great news Trevor,
I had a quick swing with it over some mulched park ground, and the coil punched right through the 4-5 inches of mulch and found targets deeper down. It has good pin-pointing for such a big coil.

One thing you forgot to mention is the fact that the coil being a Double-D, you get almost 15" of ground coverage per sweep! Very handy for covering large open areas like beaches and farmers paddocks. More ground covered = more targets!

A great addition to the X-TERRA coil line-up.
Posted By: Nenad on July 19, 2011 09:43am
I have been waiting a long time for a coil of this size. I already have one on back order from a USA dealer.The X-TERRA is one of the best all around detectors that I have used.
Posted By: Steve in Idaho on July 23, 2011 02:48pm
I agree Steve, a great all round performer! I am pleased to hear you have one on order. Thankyou!

I have wanted to manufacture a coil like this for some time, and now with the use of this VFLEX technology from Minelab, the dream has become reality!

I am sure we will busy making this coil with the interest it has already created.

All the best and I look forward to hearing what you think.

I agree Nenad, the coverage should help those with large areas to hunt and no doubt turn up targets which lay deeper. Having used this on the beach already, I have noticed good improvement on target responses even with planted targets. I have also been pleasantly surprised on the stability for such a large coil.

Take Care.
Posted By: TrevorF on July 25, 2011 04:29pm
Comments are closed for this post