Treasure Talk
Welcome to Treasure Talk, Minelab's metal detecting blog. We've handpicked the very best and most knowledgeable contributors to present regular metal detecting blogs on topics close to their heart. Plus we're asking you to join in and make it a conversation.
Our bloggers share their product knowledge, detecting experience, personal tips and tricks and anything else they want to discuss that might be of interest to the detecting community.
To contribute you will need to create a Minelab login here.
Back
Détection dans une mare (première partie)
February 15, 2011 05:06pm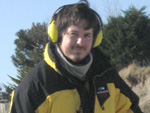 Read English version
La détection de métaux ne se résume pas aux champs et à la forêt. Ainsi nous allons vous présenter des manières différentes de prospecter, que ce soit dans une rivière, une grotte, un souterrain, un puits, dans des murs ou dans d'autres lieux auxquels vous n'oseriez penser. Aujourd'hui, nous allons traiter de la détection dans une mare et vous raconter l'une de nos sorties avec un professionnel de la recherche aquatique : Mudy Diver.

Février 2009, peu de champs sont disponibles pour la détection et nous en avons assez des forêts. Mudy Diver nous propose donc de détecter la mare d'un de ses amis agriculteurs qui depuis longtemps l'obsède. Qu'allons-nous y trouver ? Quelques pièces et objets usuels liés à la vie de la ferme, des munitions, des armes, pire encore des chapelets de grenade…
En effet, la première chose à savoir est que mares, puits et rivières regorgent de militaria et qu'en cas de rencontre avec un objet de guerre même corrodé, la plus grande prudence est requise. N'essayez surtout pas de remonter ce genre d'objet à la surface car certains peuvent être encore actifs. Notre mare se trouve en Beauce et jouxte un vieux corps de ferme. L'accès y est facile. Nous commençons par nous préparer.
La mare jouxte une très ancienne ferme

Pour ce qui est de l'équipement, vous aurez besoin de plusieurs pièces indispensables

La cuissarde en néoprène ou « WADER » : on trouve ces éléments de combinaison étanche à partir de 30 euros chez certaines grandes enseignes de vente d'articles de sport. Ils vous permettront selon la taille que vous choisissez d'entrer dans l'eau en dessous ou au dessus de la taille sans risque de voir cette dernière s'infiltrer. Elle vous maintiendra aussi au chaud comme ce fut le cas lors de notre sortie

L'extracteur : que ce soit en rivière ou en mare, il n'est pas question d'utiliser une pelle traditionnelle mais plutôt un extracteur. Le lit étant très dur, le mieux est de disposer d'un modèle de « gamate » permettant de creuser et de racler en même temps. Oubliez les modèles à main qui limiteraient votre rayon d'action à une distance proche de la berge. Surtout, évitez les modèles en plastique. Malheureusement, il est très difficile de trouver de bons extracteurs en France. Il faudra faire fabriquer une « gamate » ou la commander aux Etats-Unis. Prévoyez entre 120 et 150 euros pour une bonne « gamate » avec son manche.


Voici 3 des gamates que nous avons utilisé

Le détecteur étanche : les risques de voir le détecteur tomber à l'eau alors que vous creusez étant élevé, optez pour un détecteur étanche avec discrimination. Mares et rivières étant saturées de petits objets en fer, oubliez les modèles Induction Pulsée et rabattez vous vers un modèle avec rejet des ferreux comme la référence dans le domaine, le Minelab Excalibur II. Un disque de 27 cm couvrira plus de surface, mais sera moins précis et maniable qu'un disque de 19 cm. Afin de maintenir le détecteur quand vous creusez avec la gamate, fabriquez-vous une sangle avec un tendeur que vous accrochez par exemple à une ceinture. Prévoyez aussi un tube d'aspirine pour vos trouvailles que vous accrochez à votre ceinture si votre « Wader » n'a pas de poche.
La pochette centrale du wader est très pratique pour y stocker les déchets.
Dans la deuxième partie de cet article nous vous donnerons quelques conseils pour ce type de détection et vous montrerons nos trouvailles.

A bientôt, et bonne détection à tous les Fouilleurs !

David Cuisinier
Détection dans une mare (deuxième partie)
Metal detecting in a medieval pond - Part 1
We're in January 2009, and there aren't many playgrounds left to take my detector out on. It's Sunday morning, I receive a last minute call from my buddy, Mudy Diver, an avid metal detector user, who also happens to be a professional diver. He tells me that a friend granted him authorisation to probe the pond in front of his medieval farm. What kind of finds are we going to find at the bottom of this pond…how are we going to proceed?

In France it's very common to find weapons, ammunitions or grenades in wells or ponds. That's why when we search those places we're always cautious. We have to remind you that even very corroded, this kind of find can be very hazardous.



The pond is adjacent to a very old farm

In terms of equipment, all you need is:

Neoprene Waders: Neoprene chest waders are just like traditional chest waders, but they're made from a synthetic rubber called neoprene or polychloroprene. Starting price for this particular apparel is 30 Euros. It will keep you dry and hot in the cold water.

A long sand scoop with a 40" long shaft. To be able to dig out the first inches at the bottom of rivers or ponds, you need a very strong scoop as described in the fantastic DVD "Shallow water hunting" by the metal detectives. You should use stainless steel (inox in French) instead of aluminium since you will need to dig with the scoop. Aluminium ones are good enough for beach and sand, while you'll need a very strong one to be able to tackle the river bed. Some homemade models have a metallic footrest to dig more efficiently. Do not use plastic recovery tools or small hand tools.



Use a stainless steel scoop with a footrest like the centre one to easily dig out the bed of the pond

An underwater metal detector. Of course you could use a beach detector like the Sovereign, "King of the Beach" as we name it in France, but what happens if the machine slips and goes underwater ? Of course, some clever users put their control box in a plastic box to protect it from water or put them on their shoulder, but still, this is risky business. For this kind of research we have tried many brands with different coils. The best underwater metal detector remains the Excalibur. Do not use pulse induction detectors for river or pond detection since they are saturated with iron junk such as nails trapped in holes or between rocks. In a later article, we'll talk about metal detecting in rivers; for now let's keep it to the pond. We advise you to use an 8" coil which is more accurate than the 10.5" coil for this kind of search. To keep the detector next to you when you dig you can link it to your belt or wader using a short rope.
The chest pocket of the wader is convenient to store junk
You can use a plastic test tube with a lid to put your finds in. Add a cord and put it around your wrist for easy access. Most chest waders have a chest pocket that can be very convenient for junk.

In part 2 I'll pass on some tips you might find useful for a successful pond hunt and reveal our finds.

A bientôt, et bonne détection à tous les Fouilleurs !
David Cuisinier
Metal detecting in a pond - Part 2 English version
Comments
Comments are closed for this post