Treasure Talk
Welcome to Treasure Talk, Minelab's metal detecting blog. We've handpicked the very best and most knowledgeable contributors to present regular metal detecting blogs on topics close to their heart. Plus we're asking you to join in and make it a conversation.
Our bloggers share their product knowledge, detecting experience, personal tips and tricks and anything else they want to discuss that might be of interest to the detecting community.
To contribute you will need to create a Minelab login here.
Back
CTX 3030 The separator
May 11, 2012 10:00am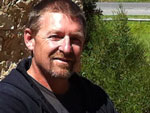 Wow! That was my response when I first set eyes on the CTX 3030 metal detector, it was so unique looking and I didn't know whether I should detect with it or pick it up and launch a missile out of it. Either way it looked impressive and it was apparent that there is something pretty special about what was in front of me, it looked powerful.
Then while all was being revealed about the capability of the CTX 3030 I had to contain myself from getting too excited, but I was sure that I could hear angels singing in the background and I just felt like yelling Halleluiah. Did I hear correctly waterproof? Was that waterproof he said? Yep! Still a bit shell shocked my next question of course was, to what depth? Three meters, this was great news because the general consensus is that Minelab could improve the E-TRAC by waterproofing it.
Now this is not just a waterproofed E-TRAC it is a whole lot more and I was chomping at the bit to get out and take it through its paces.
Can This Baby Hunt
It is one thing to be told what something can do, but it was time to see if the CTX 3030 with a stock 11-inch coil was going to live up to expectation.
When I got home I made a coffee, then smiling like a Cheshire cat I sat on the lounge and started to familiarize myself with the menu bar and new features. It was definitely easy to work my way around and all up within about two hours I was feeling confident enough to use the detector in the field.
I chose an old site where I have detected with the E-TRAC to see if the CTX 3030 and its new features were going to improve my coin & relic hunting or was I going to be disappointed. I had both detectors with me and I decided to grid a small area about 40 meters square, using the E-TRAC first and marking targets then going over them with the CTX 3030. I ran the CTX 3030 over each marked spot and every target was detected with ease, the first out of the ground was a dog registration disc followed by buckles, relics, Britannia penny and a half penny.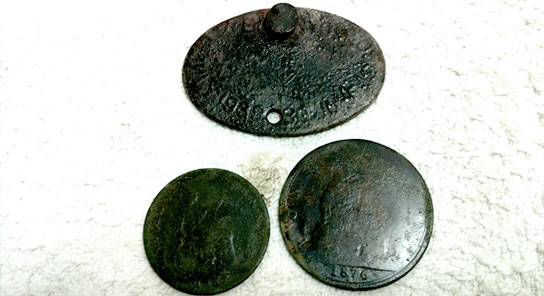 Dog registration disc, Britannia penny and a half penny found with the CTX 3030
Both detectors held their own well finding the targets, but there did seem to be something a bit different with the way the CTX 3030 was locking on and separating these targets from the trash in the ground. The E-TRAC sometimes gave an iffy signal, but what I was noticing was the CTX 3030 was actually giving a lot clearer and more solid signal.
The Acid Test
If the CTX 3030 was going to have an edge it would be the new Target Trace feature that will visually revolutionise the future of detecting. Combine this with a more solid audio response and it could prove lethal on targets previously masked by trash.
As a fair test I decided to rework the same area I had just been over, it wasn't long and I had found a couple of small targets next to junk that the E-TRAC had not locked on to.
After retrieving a small square bit of brass from the top of a bell and a couple of small brass harness rivets from amongst the trash I started to realize that there was something very special about the CTX 3030. So far what impressed me the most was the on screen information from the Target Trace and Target Trace Pinpoint features. These allowed me to look into the ground and see that there was more than one target by displaying two cursors at different locations on the Smartfind 2 display, and if it was ferrous or non ferrous. Target Trace Pinpoint shows exactly where the targets are registering on the screen with a Target ID displayed as well, in all these cases there was a response in the lower iron section with a light trace up to a more pronounced good target in the upper right side of the screen.
While I was marvelling at this new technology and starting to grasp the concept I went over a target with a very different signal, it sounded solid like a big target, but the information on the screen was bouncing around a bit when I moved the coil slightly. If I was reading it right there were possibly two targets in the ground with some trash as well.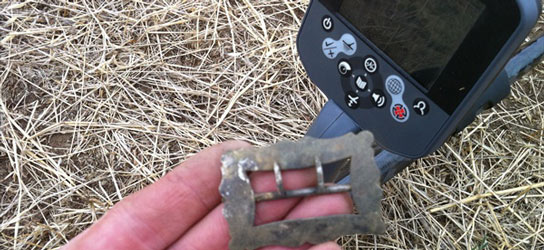 CTX 3030 metal detector and silver buckle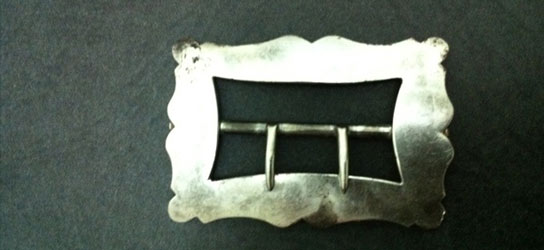 The silver buckle after being cleaned and polished
To explain this there was a typical iron response with the cursor bouncing around the bottom, but a solid 12:45 at the top of the screen. However, as I moved the coil slightly about 1 cm the iron was still registering, but it was now a 12:20/12:24 on the screen. The first target was the end of a shotgun casing from about 3 inches down, but the good target was about another 2 inches below and slightly to the side. a beautiful silver buckle.
The CTX 3030 so far is impressive and certainly looks set to change the future of detecting!
I can't wait to take it out again real soon.
Mark Williams
Comments
Mark

A very good report and much appreciated.
I am chomping at the bit to get started with my own CTX 3030.

Good Luck
Randy Dee ( In The UK. )
Posted By: Randy Dee on May 12, 2012 12:56am
I too use the E-TRAC and can see where the advanced multi target function will be the most important part of the CTX 3030's success.
Looking forward to your next post.
Posted By: markg on May 12, 2012 08:32pm
Comments are closed for this post