Treasure Talk
Welcome to Treasure Talk, Minelab's metal detecting blog. We've handpicked the very best and most knowledgeable contributors to present regular metal detecting blogs on topics close to their heart. Plus we're asking you to join in and make it a conversation.
Our bloggers share their product knowledge, detecting experience, personal tips and tricks and anything else they want to discuss that might be of interest to the detecting community.
To contribute you will need to create a Minelab login here.
Back
CTX 3030 - The prediction fulfiller
December 06, 2012 02:20pm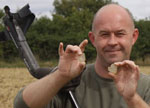 The other day I received a very kind invitation to detect upon some newly available land in Cambridgeshire from my good detecting buddy Jason. Arriving as always full of anticipation I was delighted to hear that a Roman site was adjacent to our search area. As I unpacked the CTX 3030 I scanned over the flat land surrounded by the ancient Gog Magog hills, it sure looked good.
As always we discussed previous finds and Jason also mentioned an ancient rackway that bi-sected out area. From its vicinity he had recovered Celtic, Roman and a huge selection of mediaeval hammered silver coins and associated artefacts. As we looked across he departed saying "I wouldn't be surprised to see a seal matrix or even a Heraldic Pendant today." To be fair the CTX 3030 had just found me a cracking Seal Matrix a few days before, so I thought "Mmm well a Herladic Pendant wouldn't go amiss at all".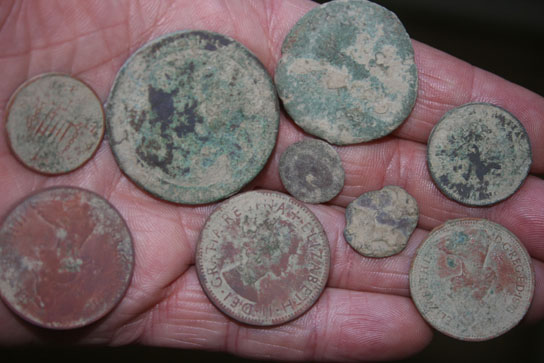 My first signal was a rather worn and crusty surfaced Roman Sestertius, followed by a 1960`s dating cupro nickle Florin, which in turn was followed by a 1797 dated Cartwheel Penny. Crikey coins popping up from all ages. Then I started to get a series of signals that turned into very green and very old pieces of bronze buckle plate and other artefacts. A few more Roman coins then appeared as did an annoying hoard of fizzy drinks can ring pulls...I know...I know... one day they will be regarded as historical artefacts....but not today. Then it was coins again and an Edward 1st silver penny appeared. Jason`s colleague Clive then found a superb Commonwealth Half Groat and some small Roman coins.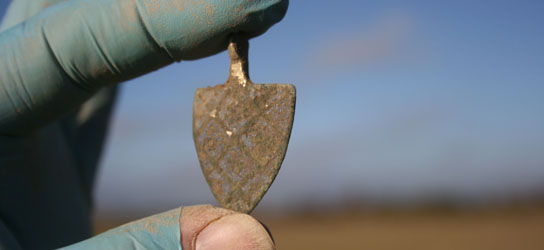 At the days end I had found 94 individual non-ferrous metals targets, which was around 30 more than anyone else. Taking into account all the variables of course, but such repeated statistics must mean something in relation to the superb performance of the CTX 3030. We looked at each other's finds, but I held one back. At last I could open the very grubby small seal top bag and take out my find. "Well it's not a seal matrix" I said. For there in my hand lay a really nice Heraldic Pendant dating to the 12th -13th Century it's hard to see but is azure blue enamel in lozenges of which some would have had a golden gilded floral design.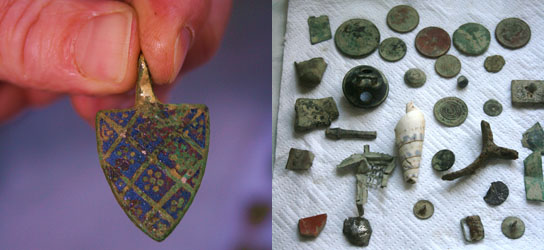 Jason was pleased that his prediction had turned into fact, after all it proved he knows the areas he searched damned well, and rightfully so he revelled in the glory. I was grateful to him as well of course, but also to the CTX 3030 as this was the thing that had now put a delightful Mediaeval object into my collection. An object missing for some 800 years that I can now share and enjoy with many… I didn't say at the time... but can now... that it was found in the footprints of one of my colleagues… Ooooo er!!!!
Julian Evan-Hart
Comments
Comments are closed for this post