Treasure Talk
Welcome to Treasure Talk, Minelab's metal detecting blog. We've handpicked the very best and most knowledgeable contributors to present regular metal detecting blogs on topics close to their heart. Plus we're asking you to join in and make it a conversation.
Our bloggers share their product knowledge, detecting experience, personal tips and tricks and anything else they want to discuss that might be of interest to the detecting community.
To contribute you will need to create a Minelab login here.
Back
CTX 3030 – The best treasure detector just got better!
October 31, 2012 03:11pm

Since its release, the CTX 3030 has quickly earned a reputation as being a true all-purpose treasure detector, but in an effort to enhance its performance further, Minelab's engineering and field test team have done a lot of work behind the scenes to make "the best even better!" Sorry, but I couldn't resist that, because as a CTX 3030 user I am quite excited about having some new features to play with! This is the first CTX 3030 software upgrade with some great new features, to give users better performance and more versatility. So what's new?
Seawater setting – optimise performance in saltwater
Pinpoint Lock option – choose between momentary trigger or lock options
Extra System upgrades – a refined operating system
Before I explain the new features, you should be aware that no current feature/function has been lost. All the current features, options, menu layout and functionality have remained the same - the new features simply provide more options. So here are some more details: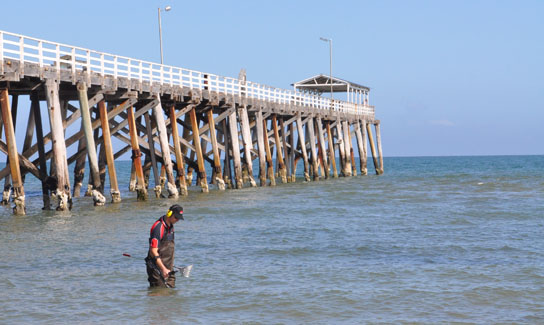 Seawater setting
Salt being conductive is essentially like a big target, but Minelab's BBS and FBS technologies have been known to handle salty conditions extremely well, and FBS 2 now takes this a step further. Located in the Mode menu, Seawater is a new specialist setting designed to optimise the performance of the unit when searching in salt water, with the biggest benefit being seen when the whole unit is submersed. Simply put, with Seawater selected the CTX 3030 will run smoother with less falsing, allowing you to set a higher manual Sensitivity setting - so depth is optimised while retaining stable operation. While testing it at a local beach, I found that it also had some merit when working the water line, as the extra stability meant I could increase the Sensitivity setting to improve depth, and found that I could sweep the coil faster than I normally would without sacrificing depth or accuracy of the ID's. For all the CTX 3030 beachcombers and shallow waders out there, this is like getting the perfect Christmas present you didn't even know you wanted!
Pinpoint Lock option
In the Options menu, you will now find an option to "Lock" the Pinpoint function. What this means is that by pressing and releasing the trigger, Pinpoint stays on (or is locked). To go back to the normal detection mode, press and release the trigger again. This is handy if you are learning to pinpoint, and/or a having trouble pinpointing a very small target. With the current momentary action, you would need to hold the button in for an extended period. Once you gain a bit of experience, on most targets the pinpointing process only takes a few seconds, so a momentary pinpoint may be preferred – so basically the choice is now yours!
System Updates
There have been a number of small improvements and minor feature changes to improve the functionality of the user interface. Here are a few notable ones:
The Low Battery warning alerts have been sync'd. Meaning the Visual and Audio alerts happen at the same time
Both the detector reset and language resets are now faster
A low battery alert has been added to the WM 10
The CTX 3030 user community has made some excellent suggestions for new features and additions to this great detector, and some of them may become reality in future software updates, so keep the great ideas coming.
In addition to the new software, there is a new XChange 2 version available. It is advisable to upgrade this first. While connected to the internet, simply open XChange 2 and you will see an orange exclamation mark. If you hover over it a text box will pop up saying "New application version…" Simply click on the exclamation and follow the prompts. When done, you can download the new detector firmware version which is available now and is extremely simple to install. See here for detailed instructions:
So if you're a CTX 3030 owner, plug into your XChange 2 and download these exciting FREE updates today!
Nenad Lonic
Comments
Nenad,

After selecting the "Seawater" option, will you please tell us what other setting adjustments that you made? I would also like to know which ocean beach that you tested the "Seawater" option?

Thank you,

Terry
Posted By: TLCinHawaii on November 01, 2012 04:02am
I would love to see at least 6 bins. Bin 1 for iron. Bin 6 for wrap around iron. The other 4 bins for the various metals that we really want to dig.(silver, gold, copper, nickel, etc)

Thanks,
PryorCreekJoe
Posted By: pryorcreekjoe on November 01, 2012 06:43am
Hi Terry, I was just using the factory Beach Mode, Low Trash, Deep ON, and Combined audio profile. Initially, when comparing the performance with Seawater On or Off, I used the detector in the "out of box" state, in Coins Mode, and the only change was switching to Manual Sensitivity. I have used Seawater here on Adelaide beaches, in a marina, and a local estuary.

PryorCreekJoe, good idea. Currently if you want different tones for high ferrous e.g. 28-35, and likely ferrous 19-27, you can achieve this with the 4 Tone Ferrous profile.
Posted By: Nenad on November 01, 2012 10:02am
The Pinpoint Lock option is perfect.
What a relief.
Posted By: daviddi on November 02, 2012 10:52am
How about that XChange 2 for Mac, is it coming in the future?
Posted By: Schimsham on November 02, 2012 04:56pm
Could you tell us what was actually changed in the settings to make it work in salt waves?
Posted By: gmeanie on November 08, 2012 11:17am
Hi Schimsham,

While XChange 2 is not compatible with Macs, you can still use a Mac to upgrade the CTX 3030's software.

To do this follow the directions at the bottom of the upgrade instructions here:
http://www.minelab.com/__files/f/95724/ctx-3030-upgrade-instructions.pdf
(copy and paste the above into your browser's address bar)

Brenton
Posted By: Brenton. on November 13, 2012 10:35am
Hi gmeanie,

The Seawater setting is not a new mode, it is simply a new option/setting in the mode menu. For consistency, it is present in all modes, not just Beach mode.
With Seawater ON, the detector's internal processing is set to ignore some of the signals created by the surrounding salt water, allowing the manual sensitivity to be set to a higher setting. This improvement is taking full advantage of the FBS 2 technology platform.
We are quite proud of this improvement, and some of the early results from users around the globe are proof positive that it works great!!
Posted By: Nenad on November 14, 2012 10:00am
Hi gmeanie
I am looking at buying the new CTX 3030 my brother in law who has a GPX 5000 has said it is not that good on finding gold nuggets
Will my CTX 3030 be ok for nuggets or not or should I go for the GPX 5000 a lot of detecting for the moment will be local but later would like to go to the gold fields in North Queensland Australia
Would like your comment
Thanks
Posted By: dscollinson on January 05, 2013 02:07pm
Hi dscollinson,

The CTX 3030 is primarily a coin & relic detector. However like with other treasure detectors, gold is metal, so if there is a gold nugget big enough within range (and it isn't being discriminated out), you will get a signal on it. One advantage the CTX 3030 has over other coin detectors is its Ground Balance, which allows it to be used in mild - medium mineralised soils.

I wouldn't chose a CTX 3030 as a primary gold detector, but if you are buying one mainly for coins, relics, jewellery, and wish to occasionally take it into the goldfields, then by all means give it a go. The CTX 3030's strong point is it's discrimination, so for maximum results I'd be sticking close to trashy goldfield sites like old mining camps, ruins etc.
Posted By: Nenad on January 07, 2013 02:37pm
I know that updating the CTX is possible on a MAC, by dragging or copying the update to the CTX disk image. Can user modes be installed on the CTX manually in the same way?
Posted By: JamesM on February 14, 2013 12:53pm
Hi JamesM,

While it is possible to drag and drop Mode files, email them etc., dragging a mode file directly into a CTX 3030 through the USB connection won't work.
Posted By: Nenad on February 18, 2013 11:05am
Comments are closed for this post