Treasure Talk
Welcome to Treasure Talk, Minelab's metal detecting blog. We've handpicked the very best and most knowledgeable contributors to present regular metal detecting blogs on topics close to their heart. Plus we're asking you to join in and make it a conversation.
Our bloggers share their product knowledge, detecting experience, personal tips and tricks and anything else they want to discuss that might be of interest to the detecting community.
To contribute you will need to create a Minelab login here.
Back
CTX 3030 Seawater setting
January 25, 2013 10:55am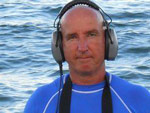 The CTX 3030 Beach mode and Seawater setting is a really good combination of options for a shallow water hunter that likes to work the trough or first drop off in the water. This is the area in the water where sands are constantly shifting and waves roll up onto the beach, it is also the area that makes the CTX 3030 such an effective gold jewelry hunter.
When you use the Seawater option there is no need to worry about using a high manual sensitivity level with the sand and saltwater rushing over the search coil. The Seawater setting makes it possible to ride the Manual Sensitivity in areas on the beach and in the shallow water that would give other submersible metal detectors fits. Hurricane Sandy recently moved along the coastline of Florida causing a large amount of beach erosion on its way to landfall in New Jersey.
I spend many hours searching for Spanish treasure coins and artifacts along the beaches of the famed Treasure Coast of Florida finding many cool artifacts from Spanish galleons. Several days later when the waves had subsided I grabbed my CTX 3030 to go search for another kind of treasure, modern gold jewelry on the tourist beaches of South Florida.
Using my usual hit and run beach tactics combined with the awesome discrimination capabilities of the CTX 3030 I found many pieces of gold jewelry on several beach hunts, but I knew there had to be more gold waiting in the shallow water.
A rain delay on a painting job gave me just the excuse I needed to pull on a wet suit and search in the shallows opposite one of the beaches that I had found some gold jewelry on a few days earlier. I turned on my CTX 3030 and entered the water, which was still a little rough with waves breaking waist height.
I began sweeping my search coil and moving forward while concentrating on working the area inside the water away from the soft sandy slope where many small clumps of coral and shell had accumulated. No false signals and no chatter from my CTX 3030, just a really mellow low tone, which turned out to be gold on my first signal inside the water.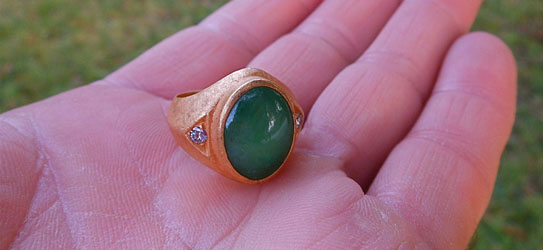 This heavy 3/4 ounce 18 K gold gents ring with a 5 carat emerald and two diamonds was a sight to behold laying nestled in amongst the shells in the bottom of my scoop basket. A lead fishing weight brought me back down to earth before another low tone from my third signal had me shaking my head in disbelief as I pulled out an expensive 18 K ladies Amethyst ring from my scoop.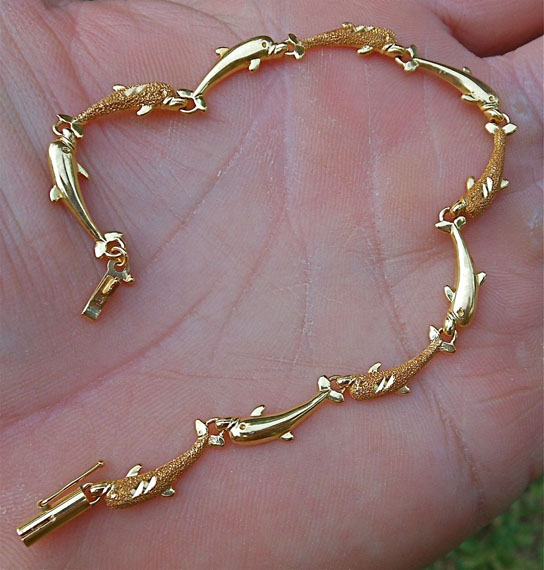 I really pounded the area until the incoming high tide made water hunting too difficult, my finds pouch was full of coins, fishing weights and one more piece of gold. A 14 K gold dolphin bracelet topped off one rainy day shallow water hunt to remember. I credit the Seawater setting in helping me to search the rough water effectively and being able to search lower down on the beach in the wet sand with waves rolling in over my search coil.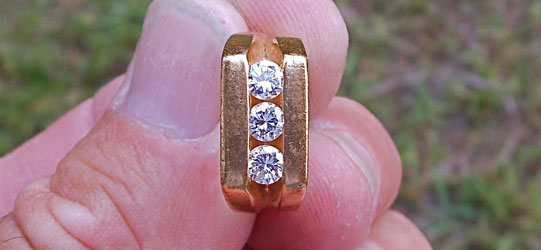 This 18 K gold gents ring with three 1/2 carat diamonds was found inside the water's edge a few days earlier and inspired me to go back and search for more gold.
Happy CTXing!
Gary Drayton
www.garydrayton.com
Comments
To make comments you must be logged in, please note comments will not display immediately due to moderation
A Question: I upgraded my software as per instructions, and the pinpoint lock works fine, but I cannot seem to find the "seawater" setting. Is there a chance it did not upgrade, or am I simply too dumb to find it?

Thanks, the Niffler
Posted By: Niffler on April 16, 2013 09:24pm
Hi Niffler,
The Seawater option can be found in the Mode settings menu.

From the Detect screen press the Menu/Select button, scroll down to your current mode, select it with the Menu/Select button, scroll to 'Edit' and press the Menu/Select button, scroll down to 'Seawater' and press the Menu/Select button to turn Seawater on or off.

I hope this helps,
Brenton
Posted By: Brenton. on April 17, 2013 09:06am
Niffler again, Brenton. When i select edit, all I get is a honk, but no further menus. Is there a way the seawater option could have failed to load when I upgraded?

Thanks again, the Niffler
Posted By: Niffler on April 17, 2013 09:26pm
Hi Niffler,

You need to select your current mode for editing. Your current mode will be indicated by a red icon in the Modes menu.

You are getting the error tone, because the 'Edit' option is greyed and can't be selected, as it's not your current mode.

This is how you can select a mode and then select Seawater:

From power on, press the Menu/Select button, scroll down to 'Beach' press Menu/Select button, scroll to 'Select' and press Menu/Select button. Beach Mode is now selected.

Now you can edit the mode by pressing Menu/Select and then scrolling to 'Beach', press Menu/Select, scroll to 'Edit' (now in black text) and pressing the Menu/Select button. Scroll down to the Seawater option and press Menu/Select.

Brenton
Posted By: Brenton. on April 18, 2013 09:54am
Thank you, Brenton.

Being a geezer who still uses a dial phone, I guess I'm still not well enough "thumb oriented" and tend to miss steps.

I do appreciate your help.

Niffler
Posted By: Niffler on April 18, 2013 09:23pm