Treasure Talk
Welcome to Treasure Talk, Minelab's metal detecting blog. We've handpicked the very best and most knowledgeable contributors to present regular metal detecting blogs on topics close to their heart. Plus we're asking you to join in and make it a conversation.
Our bloggers share their product knowledge, detecting experience, personal tips and tricks and anything else they want to discuss that might be of interest to the detecting community.
To contribute you will need to create a Minelab login here.
Back
CTX 3030 Raising the temperature
December 14, 2012 04:37pm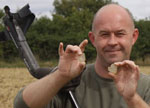 Well its mid December 2012 and the good old United Kingdom is on the receiving end of a real icy blast. Temperatures at night are dropping to -10-15 and for us here that's cold.
One Wednesday morning mid this icy blast I had a day off work, sadly none of my colleagues did. So I pondered what to do with this day on my own... and within a milli-second had decided to go detecting with the CTX 3030.
Half an hour later I was on one of my usual haunts a field that yields finds from all ages. The only trouble was this was going to be at least my thirtieth visit to such and although I knew in advance I was going to enjoy it I did wonder what, if much at all would be recovered.
Blimey it certainly was cold lucky I had about nine layers on giving me the appearance of a Michelin Man, so what... at least I was warm.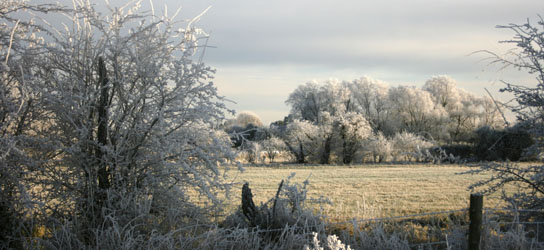 The first hour was indeed a bit slow, but the second hour was surprisingly packed with finds... for some strange reason I seemed to be getting much deeper signals than usual in the frozen solid soil, brilliant in most ways, but not when you recover a Coke can... of which I did several in fact. But any one of these old cans could have been a hoard... However these modern blights were more than easily made up for with the many finds of interest. These included various coins including two silver, a Victorian brooch with a bird design (blimey did think this was Roman when I first glimpsed it) some buckles and a late Saxon fitting with gilded recess.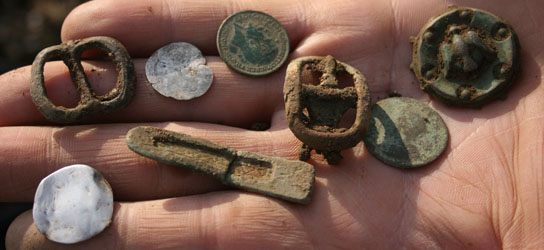 This last find was found in two pieces about five feet apart despite the object having been broken some considerable time ago. Funny I didn't seem to feel the cold anymore. The CTX 3030 finds rate had warmed me up.
I ended the day with a veritable bag full of finds some of the ones I made during the latter part of this search included part of a highly decorated 18th Century shoe buckle a Crotal Bell another large Mediaeval buckle and some Georgian buttons of considerable size and located at the same category of depth.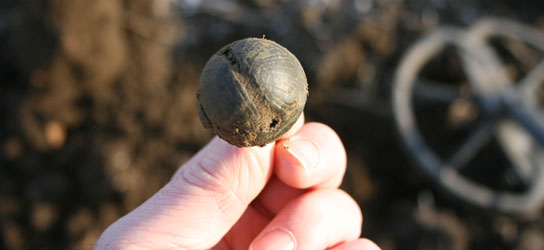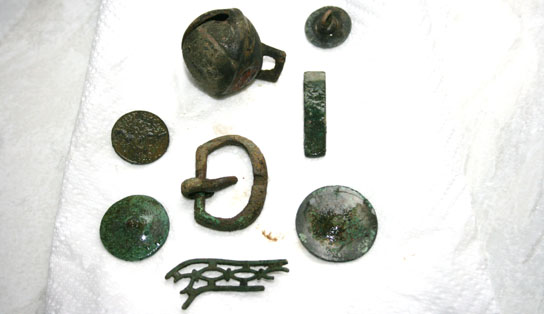 Then as I was considering leaving the sun actually came out in some strength and started to melt the frost encrusted trees... as for me, well I was considerably warmed up anyway by the amount of finds I had just made. I hadn't been here for about three weeks, but in that time it had rained a lot and of course soil bound worms had moved a lot of soil bringing a few targets within reach no doubt.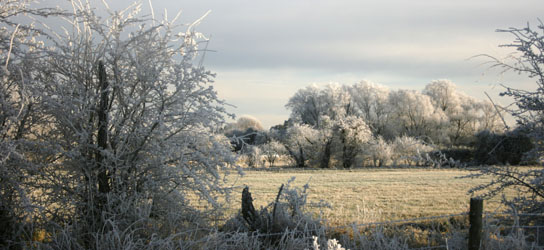 However to be frank all around me it had remained chilly to freezing, but did I feel any of it? not with my good old trusted CTX 3030 I didn't!!! Especially as in total I found three silver coins, the last one being a wonderful Celtic silver unit... but the finding of that is for another account another day.
Julian Evan-Hart
Comments
Comments are closed for this post