Treasure Talk
Welcome to Treasure Talk, Minelab's metal detecting blog. We've handpicked the very best and most knowledgeable contributors to present regular metal detecting blogs on topics close to their heart. Plus we're asking you to join in and make it a conversation.
Our bloggers share their product knowledge, detecting experience, personal tips and tricks and anything else they want to discuss that might be of interest to the detecting community.
To contribute you will need to create a Minelab login here.
Back
CTX 3030 or Excalibur II – Which is best for me?
August 07, 2012 10:42am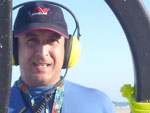 "Should I sell my Excalibur II and buy a CTX 3030?" A friend had just called me and was asking me this question. For me the answer is easy....I keep my Excalibur and add the CTX 3030 to take advantage of its added features and benefits. I have a strong affinity for the Excalibur. I know the detector very well and when I turn it on it is like wearing an old pair of comfortable shoes and I know I am very good with it. But back to the conversation... I answered, "it depends what you want out of the detector?" I then asked "What were the three most important things for him to get out of the detector?" His answers were... 1.Waterproof, 2.Durable 3.Critically important to discriminate out selected coins.
The answer was the CTX 3030 wins with its ability to discriminate targets. But I had this same conversation with another friend who typically hunts rough surf and severe weather. In his case he wanted something that was fast and intuitive. He did not care about a screen and screening out targets. In his case he went with the Excalibur. The advantage of the Excalibur is one word "Simplicity". The advantage of the CTX 3030 is "Flexibility".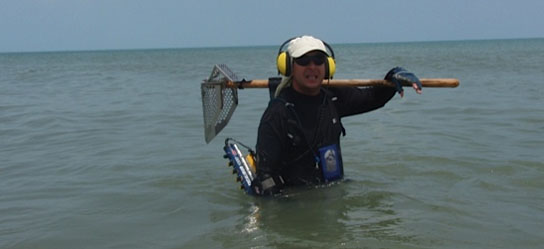 In contrasting the differences between both detectors it may come down to one small attribute that is the deal maker. For example... a Law Enforcement Officer or Evidence Recovery Specialist might like how the CTX 3030 telescopes down to a small size and fits compactly in a go bag or behind a car seat. The GPS feature is an incredible advantage for the same individual as it would be for any archeology team surveying a site.
But back to the phone calls... another friend wants a detector for exclusive use in his lost items recovery service. Here the CTX 3030 is the clear winner. Imagine handing an insurance company a survey grid showing: date, time, Search Pattern used (spiral with overlapping box grid) and a list of incidental targets found. If the target, usually a ring, is found it will be interesting to show the distance from the "estimated loss point" to the "FindPoint".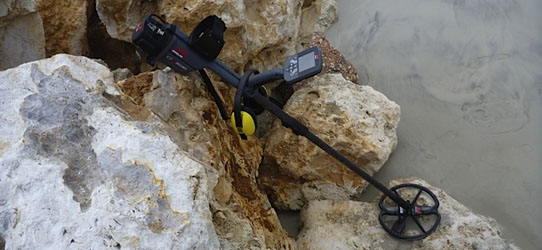 If the target is not recovered having a GPS based survey grid proves the time invested and thoroughness of the search. This is a sign of a real professional. Make no mistake the CTX 3030 is changing the future of detecting in major step forward with its flexibility and performance attributes.
Again both detectors are winners in their own right. They overlap in many ways, but it is the differences that will determine which is the choice for you. In my case they both complement each other to handle all possibilities. If I am going to hunt severe weather I will grab the Excalibur II. I have been in wind and rain where the conditions are tough and here the Excalibur II really shines. I know the controls blindfolded and thus I can tweak changes and volume very fast and on the fly in challenging conditions. If I am leaning into the wind and can feel the sand pelting me in the face at 3:00 in the morning I will not be able to look at a screen. But then on the other hand I really like knocking out the nuisance coins on tourist beaches with the CTX 3030.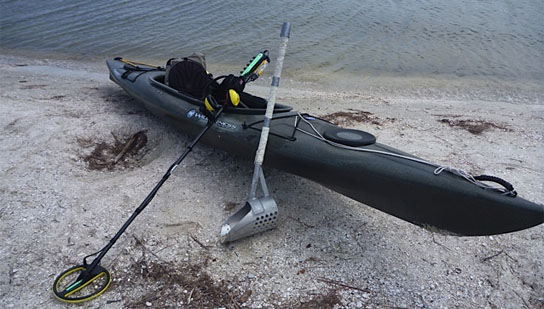 On a recent hunt all of my targets were coming in at 7 or 8 inches and so I knew that a recent deposit of sand had covered all the targets. When I moved up higher on the beach I passed the new sand and suddenly the targets were coming in at 12 inches. This information can be very useful in reading a beach and deciding where the hotspots will be. It was something I never consciously thought of when hunting with the Excalibur.
The CTX 3030 GPS feature turns the machine into a classroom. After you record your hunt, using the GeoHunt feature, you can go back and look at your coverage trends and patterns. I did this and realized a flaw in my hunting style that I would not have noticed without reviewing my hunt. I adjusted to compensate and suddenly my find count went up.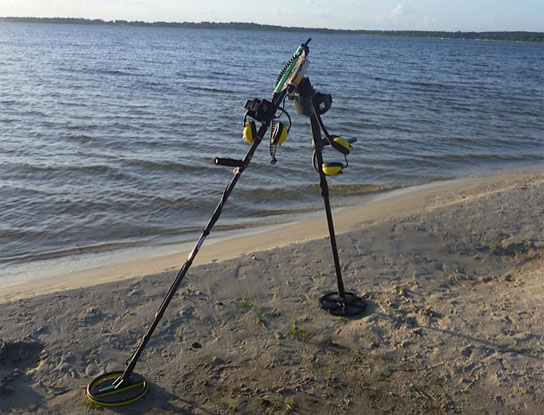 So if you are a dedicated hunter and treasure hunting is a way of life for you then keep your Excalibur II and use your gold finds to get a CTX 3030. If you are only going to get one machine then take some time and think about your treasure hunting style. Is scuba diving important to you? Do you like coin shooting and relic hunting? Will the GPS be an asset to your hunt? How important is it to you to change coils on your detector? Remember the best detector for you is the one that best fills your needs and hunting style.
Thus in the case of CTX 3030 vs Excalibur II there is a clear winner. The winner is you!
Either choice will lead you to treasure if you invest your time, research and many footsteps!
Wishing you the glint of gold in your scoop!
Tony Diana
Basic Ear Training for Excalibur
Comments
Comments are closed for this post