Treasure Talk
Welcome to Treasure Talk, Minelab's metal detecting blog. We've handpicked the very best and most knowledgeable contributors to present regular metal detecting blogs on topics close to their heart. Plus we're asking you to join in and make it a conversation.
Our bloggers share their product knowledge, detecting experience, personal tips and tricks and anything else they want to discuss that might be of interest to the detecting community.
To contribute you will need to create a Minelab login here.
Back
CTX 3030 Multiple hunt modes at your fingertips
June 07, 2012 11:18am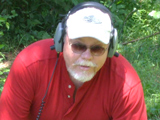 Have you ever wished you could pull up a new set of hunt parameters, without having to go through the entire menu process? The CTX 3030 offers you that ability and more, with two features; Previous Mode and the ability to cycle through two Discrimination Patterns.
Search Modes are the user-adjustable "programs" we use to operate our CTX 3030s. The CTX 3030 offers five preprogrammed Search Modes, (M1=Coin, M2=Beach, M3=Relics, M4=Silver and M5=High Trash). And, it allows us to "build" five additional Search Modes (M6, M7, M8, M9, and M10) of our own design. Within each of these Search Modes, you can set the parameters of the various functions for your hunt. These functions consist of Discrimination Patterns, Tone ID Profile, Response, Recovery Fast, Recovery Deep, Target Separation and Pinpoint. All ten Search Modes can be edited, copied, and saved by the user.
When you turn your CTX 3030 on, it will start up set to the Search Mode used last. To activate Previous Mode functionality, press and hold the User button for approximately three seconds. When the "User Functions" menu appears, scroll down to (highlighting) the "Previous Mode" function. Press Menu/Select to lock in your selection and return to the Detect Screen.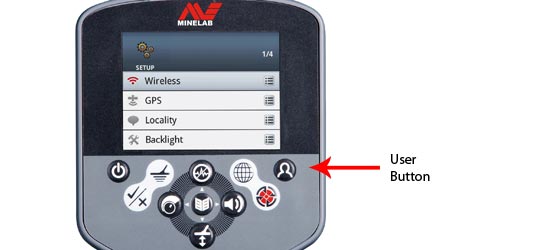 CTX 3030 User Button
To activate a second Search Mode, simply press the Menu button and select the other Search Mode choice (M1 – M10). After you have made your selection, press the Menu/Select button and you will be returned to the Detect Screen. If you look at the status bar at the top of your screen, you can see which Mode is currently active (Letter M followed by the Mode number). To toggle back and forth between the current and previous Search Modes, simply press the User button.
Each Search Mode includes two Discrimination Patterns. Pattern 1 of each Search Mode is preprogrammed to represent typical discrimination settings for that particular Search Mode. Pattern 2's default setting is to accept all targets except those with ferrous value of 35. Pattern 1 and Pattern 2 in each Search Mode can be edited to reflect the amount of discrimination you desire (both Ferrous and Conductive). As with the active Mode status indicator, you can verify which Pattern you currently have activated by looking at the letter P (for Pattern), followed by a number (1 or 2), in the status bar. To switch between the two Discrimination Patterns within any given Search Mode, simply press the Detect button.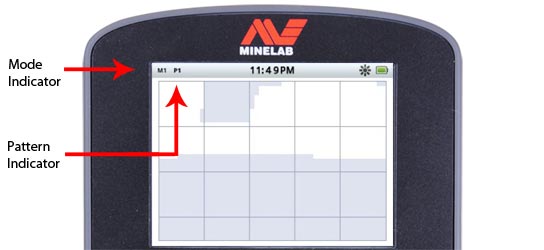 CTX 3030 Mode and Pattern indicators
In summary; toggle between two totally different Search Modes (M1 – M10) by simply pressing the User button and toggle between to two completely different Discrimination Patterns (P1 /P2) within each Search Mode by pressing the Detect button. The Minelab CTX 3030 easily allows for multiple hunt modes, at your fingertips.
Randy Horton
Comments
Comments are closed for this post