Treasure Talk
Welcome to Treasure Talk, Minelab's metal detecting blog. We've handpicked the very best and most knowledgeable contributors to present regular metal detecting blogs on topics close to their heart. Plus we're asking you to join in and make it a conversation.
Our bloggers share their product knowledge, detecting experience, personal tips and tricks and anything else they want to discuss that might be of interest to the detecting community.
To contribute you will need to create a Minelab login here.
Back
CTX 3030 GPS and mapping
May 18, 2012 03:55pm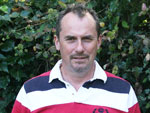 One of the main features on the CTX 3030 is its GPS and mapping features. I must admit that while testing this detector, at first, I just didn't get it!
But as I continued learning this machine, I had one of those "Eureka" moments.
It was while searching a large field in Buckinghamshire England, I dug a funny looking green coin. After a bit of spit and polish, I could see silver from the high points shining through. It was a second century Roman silver denarius. This was the second pure silver coin I had found in this field, covered with verdigris.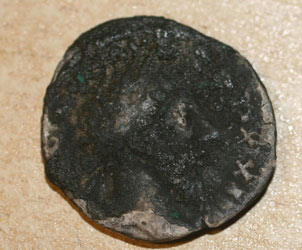 Figure 1 – Green coin
The significance of the verdigris is that this is a common occurrence when coins are stored in a pot… in a hoard!
I first learned this in the mid 1980's, when I dug up a green denarius of the Roman emperor Hadrian (98AD). It was soon followed by 626 more 1st & 2nd century coins. Most of these were covered with green verdigris, and like mine, all cleaned to reveal a well-preserved silver coin (fig2).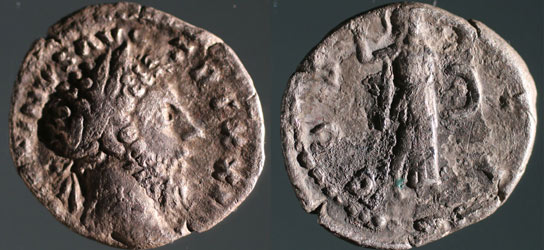 Figure 2 – Silver denarius now cleaned
The first coin I found a few years back was not recorded on a GPS, I didn't have one on the day, so the find spot information has been lost forever. But the coin I found this time has been recorded simply by pressing the red Store button, choosing FindPoint, and then saving. Next year I can return back to the same spot to see if the plough lifts any more coins.
So let's take a look how this all works. Once you record a FindPoint you can connect your CTX 3030 to a PC, and save it to the XChange 2 software. Once there you can name it, add a note and even upload photos to the record (fig3).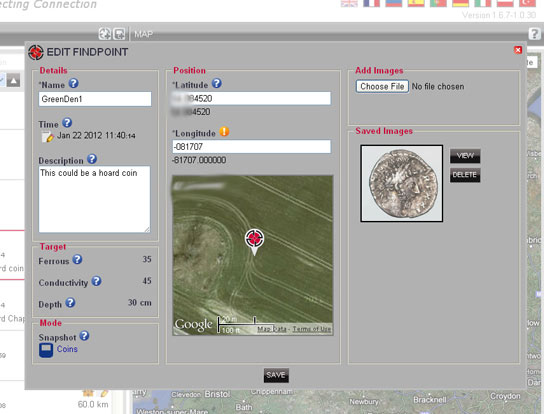 Figure 3 – FindPoint record
Navigation Tool
This is the feature that will lead me to the FindPoint of the first coin. To use it I will first load the FindPoint by dragging it from XChange 2 to my CTX 3030 (if it's no longer there).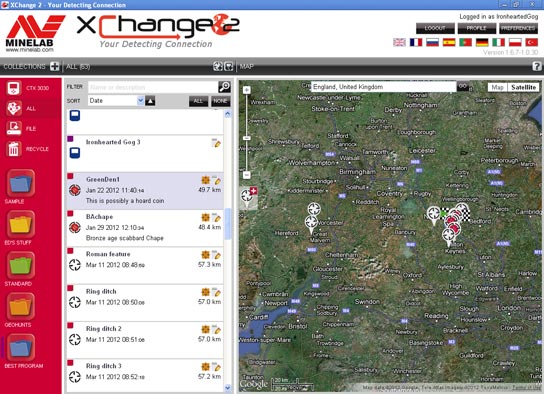 Figure 4 – XChange 2 with Google maps
Once I reach the field, I'll start-up the detector and press the menu button. Select the 'DISPLAY' menu, then the 'DETECT SCREEN' menu and then scroll down and select the "Navigation Tool" (fig5). This adds the Navigation Tool to the detect screen. If you prefer you can add the Navigation Tool to the map screen.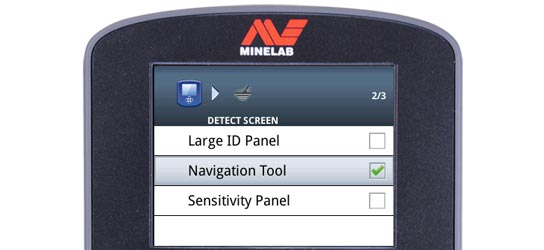 Figure 5 – Navigation tool selection
Select the FindPoint "Name" you want to walk to in the 'GEOSTORE' menu (fig6), and select "Go To". You can now start detecting and as you get close to the FindPoint, the number in the centre of the widget will count down, until it reaches zero and you're over the original find spot (fig7).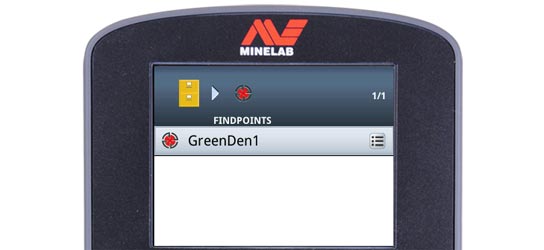 Figure 6 – GreenDen1 FindPoint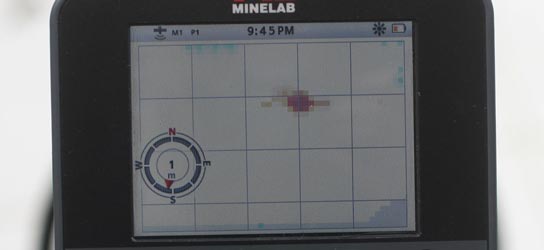 Figure 7 – Navigation Tool on the CTX 3030
GPS Systems
The CTX 3030 can switch the GPS receiver between two states. Selecting "On" will use GPS in the normal way while selecting "Enhanced" will enable SBAS which is a satellite based system to increase accuracy. In Europe this is known as EGNOS and in the USA, WAAS. Whether this "Enhance" setting will increase your accuracy will depend where you are in the world.
Summary
This really is a fantastic tool to have, and so much more convenient than carrying a separate GPS handheld unit. I never seemed to use mine; only switching it on when I found something important, and then getting frustrated waiting for it to acquire a satellite connection. It wasn't long before I left it at home.
Having a GPS integrated detector is so much better, I switch it on and start detecting oblivious to the short period it takes to acquire a connection.
I'm now waiting anxiously for next year's plough, and imagining more Roman denarii waiting to be found… the CTX 3030 really is "The Future of Discovery"
Now get out there and find something!
Gordon Heritage
www.mlotv.com
Comments
Gordon

Thanks for another fine contribution it all makes good reading and is greatly appreciated it is helping to get me prepared for when I put my own CTX 3030 to use in eight days from now.

Randy Dee
Posted By: Randy Dee on May 22, 2012 01:55am
Dear Gordon
I agree that it will be a good help with integrated gps. i have also tried to trace routes with a bycycle-gps (edge)and it is not easy.
But I have a few questions:
There are several different formats of gps coordinats, will it be possible to choose between them in the CTX 3030?
Will the data be delivered in the usual formats so they can be exported to other places?
How can you keep track of the registered points from the field to home on the PC? Can you write anything on the CTX 3030 or do you have to do seperate register on paper? time?
Many greetings Erik Denmark
Posted By: erik.dam@skolekom.dk on May 27, 2012 07:21pm
The grid reference is generated in a latitude longitude grid reference only (as it would be on Google Maps).

Everything can be saved to your PC within XChange 2. I have folders for FindPoints and GeoHunts. When you login to XChange 2, Google maps loads and you can see all of these overlaid on the map.

You can't write any thing on the FindPoints within the detector.... but you can in XChange 2.... and you can rename the FindPoint and load back to the CTX 3030.
Posted By: IronheartedGog on May 29, 2012 02:58pm
Comments are closed for this post