Treasure Talk
Welcome to Treasure Talk, Minelab's metal detecting blog. We've handpicked the very best and most knowledgeable contributors to present regular metal detecting blogs on topics close to their heart. Plus we're asking you to join in and make it a conversation.
Our bloggers share their product knowledge, detecting experience, personal tips and tricks and anything else they want to discuss that might be of interest to the detecting community.
To contribute you will need to create a Minelab login here.
Back
CTX 3030 Baptism of brilliance with FindPoint - Part 2
June 20, 2012 04:00pm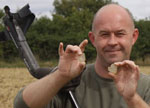 In part 1 of this blog post I explained how I discovered remains of a Roman lead tank, now I'll explain how I cleaned it and will be using XChange 2 to dig deeper into this mystery.
When I returned home I began cleaning the items hoping that my example might also be highly decorated. Unfortunately this was not the case; the only decoration on one of my panels is of a spear shaped leaf. This is in moulded format and appears to be composed of beading. Ironically if it is a willow tree leaf then that would be appropriate as these trees also grow in damp areas.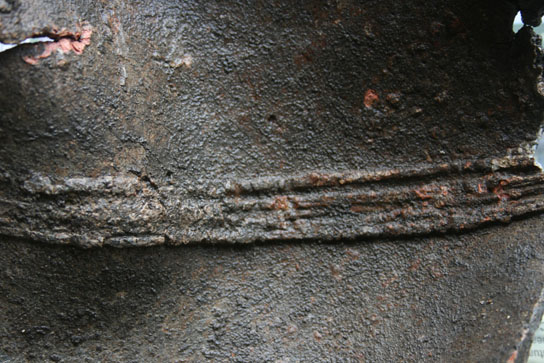 Close up of the leaf decoration
Cleaning revealed several more fascinating factors apart from being hacked apart this font had been partially melted by fire. Inside it was sooted up and in the folded sections were globules and crusty deposits of once molten lead. Indeed the folded panels were accompanied by a large lozenge ingot of once molten lead.
A burned ox or cow bone was found along with the lead sheets. Perhaps the large container had been used to cook a meal in and the fire had become too fierce. However as they weighed around half a ton the portability of such a font to be used as a cooking utensil must be called into question.
This brings in to focus other issues. In the past complete examples have often led to the discovery of extremely early Christian churches nearby. This is a weight dictated matter as of course such objects could not easily be taken far from their original site of use. However in this case the item was made far more portable by being hacked into pieces. So in all effect is probably a considerable distance from its point of original use.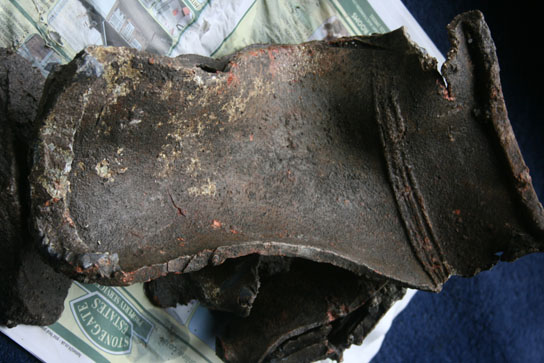 The entire collection of fragments found by the CTX 3030
Now with FindPoint I had preserved all the exact find spot details of each fragment located, using XChange 2 I later downloaded the information and overlaid it on Google Earth. I could clearly see the dispersal of font fragments and will use this information to pin point the surrounding areas for further searching... How brilliant is that!!. But apart from this the CTX 3030 had enabled me to discover a very important series of finds which further add to the history of the area.
The main large target would appear to have been buried in some type of pit as it was also full of oyster shells and roman pottery. This brings into question was it buried as an offering? Certainly there is a Roman shrine nearby as we have discovered related coins and objects there. The question is: are there other pits nearby in this field containing more of the font just awaiting discovery? This information can now be shared not only amongst my detecting colleagues, but official bodies and academics who will most certainly be extremely interested in this most significant of UK finds.
With repeated searches and FindPoint data I'm certain more will be found. As the find spot data builds up it may well be possible that it suggests the location of more pits by outlining a deposition pattern. If not it will certainly show us the spread of not so deep pieces perhaps created by the plough and allow us to approximate from where they originated and then perhaps locate the deeper pieces. Of course all this depends on the fact that this series of finds is not simply all there ever was.
Perhaps the Roman who did these actions buried more a mile or so up the road. Well that's no problem as I have permission to search there too and of course can still plot finds on FindPoint. Basically the CTX 3030 is now on the case. So I don't rate that very much will stay hidden in this area for long and am I looking forward to making all those future finds? You bet I am!!!
Oh I forgot to mention on the same search I also found: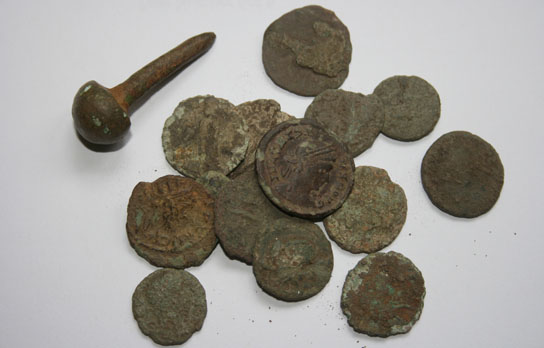 A baluster headed Roman pin 2nd Century AD along with a selection of small Roman coins some showing the Emperors Tetricus and Crispus. It can be seen by their overall condition just how vital it is to recover these coins now.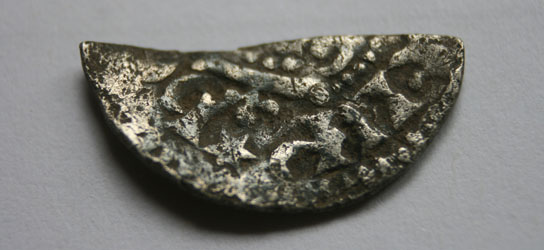 A cut half silver penny of Henry 111 dating to 1216 to 1272AD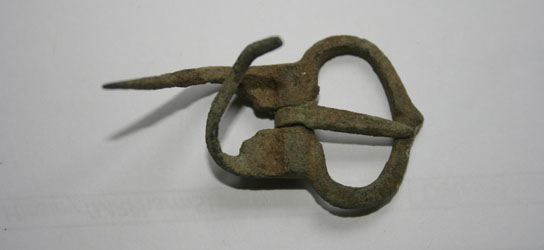 A rather plough damaged mediaeval buckle
Julian Evan-Hart
Comments
Comments are closed for this post