Treasure Talk
Welcome to Treasure Talk, Minelab's metal detecting blog. We've handpicked the very best and most knowledgeable contributors to present regular metal detecting blogs on topics close to their heart. Plus we're asking you to join in and make it a conversation.
Our bloggers share their product knowledge, detecting experience, personal tips and tricks and anything else they want to discuss that might be of interest to the detecting community.
To contribute you will need to create a Minelab login here.
Back
Bringing the history of an era back to life
January 09, 2012 12:40pm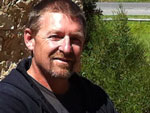 I am an Adelaide boy and I love South Australia's history, it simply oozes out of every little nook and cranny in our small country towns. Although, each one has its own unique story and there always seems to be a connection somewhere that brings it all together. I thoroughly enjoy coin & relic hunting because for me, there is nothing better than gathering together many facets of information and weaving it all together with the bits & pieces that you find to bring the history of an era back to life.
I started detecting over 21 years ago when a friend of mine won a Minelab Eldorado Mark II in a raffle, but he didn't want it, so I bought it off of him for $100.00. In hindsight I would have to say that it was the best $100.00 that I ever invested, as it was the beginning of my fascination with the great hobby of coin & relic hunting. From the very beginning the evidence was apparent to me that Minelab metal detectors were in a league of their own and so I have never purchased anything but Minelab.
Although, detecting would take up all my spare time I mainly targeted coins for many years because in my early stages of detecting I was averaging huge hauls of coins, because there were only a handful of people detecting and this kept me busy. With the old Eldorado getting tired, I decided to upgrade to a Musketeer XS, another fine machine that was and still is more than capable of finding great hauls, but I was still mostly targeting only coins.
My wife and I decided to take a year off and travel around Australia with our two young daughters and of course I took the detector. We still talk about the hours of fun we all had detecting all over Australia. While I would find the targets, the girls would follow me around digging up all the coins. I recall one day when we found over $260.00 in one playground just out of Darwin, what a fun family day that was.
About 12 months ago, after having some time away from detecting due to work and family, I decided to dust off the Musketeer and get back into it. Although I was still finding coins I wanted to upgrade to a better detector. So after much research and many questions all roads kept leading to the E-TRAC and how it is the best Coin & Relic metal detector. Around eight months ago I purchased my E-TRAC and since day one I haven't looked back, even though it has been a steep fast learning curve.
This machine was certainly living up to all the hype that I had read about it and the stories of its abilities were definitely spot on, but the best was yet to come. I started to find a few silver pre decimal coins and suddenly the world of detecting had gone to a whole new level. I started to go over old ground that myself and others had been over to find that there are literally hundreds of coins deeper in the ground and over the past seven months I have amassed a total of over 600 silver coins alone and this does not include the thousands of pennies and other coins that I have found.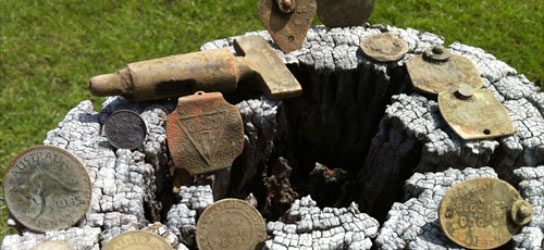 Dog registration discs & relics found with the E-TRAC
I have also become extremely passionate about South Australia's history which through hours of research has led me to an absolute treasure trove of coins and relics that date back even earlier than our settlement date of 1836. There is something really amazing and mystical about finding something that was lost possibly over 150 years ago and it is only now seeing the light of day again, it always takes me on a bit of a journey, as I start to try and piece together the people and what they did from the different relics that I find.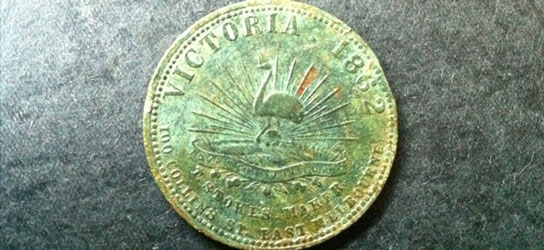 T Stokes traders token
It's great to meet people along the way, that give you permission to hunt these old sites and the friendships that develop over time. One story of interest was when an old farmer that I have become friends with came and got me from a site he had given me permission to hunt on. He told me to follow him so he could show me some other old sites. While we were at one of the sites I was giving it a quick once over and found an 1884 English 3d, he picked it up rubbed it clean and said "well ill be, my grandmother could have dropped this" as he stood there doing the sums as to when she lived there, you've got to love those moments.
Mark Williams
www.coinrelicdownunder.wordpress.com
Comments
Looking forward to catching up for a hunt during the year mate. You will be a great acquisition to the Minelab team.
Posted By: gemq on January 10, 2012 01:29pm
Thanks and I look forward to getting across the border this year sometime for a coin & relic hunt or two. I still have sovereign envy but my day is getting close. Keep up the research mate because you are a great operator. I don't know of anyone else who consistently comes up with such great finds that is using a Musketeer. You certainly understand your detector, I can only imagine what you will turn up with an E-TRAC.
Posted By: MarkW on January 10, 2012 04:42pm
Mark congratulations on you apointment to Treasure Talk. When you get a chance could you share your ideas on "long" audio that you showed me on our chance meeting a couple weeks ago on the sports field site. Since altering my settings and working with long audio my recovery rate has more than doubled. The two outings before I met you I recovered 12 and 17 coins then using long audio and different settings the on following 5 trips to the same oval 191 coins were recovered an average of 38 per trip that is more than double the average recovered on the standard coin settings and included 10 pre decimal silvers. Very happy
Posted By: Shilling on January 12, 2012 08:15pm
Hi Shilling and thanks for the feedback and congratulations, I was so glad to see that your coin tally had increased, not that I had any doubt it would if you persisted with the settings. I have been back to the spot where I met you a couple of times hoping to catch up again and see how you were going. I will probably do a two or three part story explaining the long settings in more detail. I have since experimented and found a couple of other interesting settings to try that may be of assistance. Thanks Mark
Posted By: MarkW on January 13, 2012 06:16pm
Mark Congratulations on your appointment to the Minelab team, I dont think it will take the world long to catch on to your amazing Success with good research and the E-TRAC.

Looking forward to your finds for 2012.

Cheers Byron
Posted By: lxss5000 on January 15, 2012 10:46pm
Thanks Byron for the compliment, but it is hard to take all the credit as The E-TRAC is certainly in a whole different league to other detectors. I have said it many times, I liken the E-TRAC to a fine diamond with many facets to explore. The E-TRAC gives you an edge over other detectors when hunting coins & relics.
Posted By: MarkW on January 16, 2012 12:11pm
Well done, found this link from minelab owners forum in uk, you certainly do get around. Have you ever ventured up around halls creek yet? would love to see you and E-TRAC in action
Posted By: Penny on January 21, 2012 10:18pm
Hi Penny, I will be traveling a lot this year and could very well end up in that region. I was up that way about 10 years ago and loved it. Do you detect much, and if so what do you target? I want to get out after some gold at some point but I do find it hard to get away from coin & relic hunting.
Posted By: MarkW on January 23, 2012 10:36am
HI
I have used marks setting starting oct.
and wow deeper than ever before .
i can say i would not have found my
1844 and 1898 shillings without them
I have done a lot of detecting at this place
and found the 1844 at 9" plus the day after
marks help
three months 9 shillings 6 6p and 5 3p
a 22 c very old ring and a florin today
over half my sivers in 3 months
i take myhat off to you and your help
brian
Posted By: btracer on February 10, 2012 05:20pm
Well done Brian I know that whoever perseveres with these settings will no doubt increase their finds. This has been the case over and over. I'm glad that you have a Florin now and may it be the first of many. Stay positive
Posted By: MarkW on February 10, 2012 06:26pm
hi mark
thinking of getting a new coil for my etrac
do you think it is worth it
Posted By: btracer on February 11, 2012 06:26pm
Hi Brian I only use the stock 11 inch coil at the moment but I am about to try the smaller 8 inch FBS 800 coil over the next few months. I personally think that the 11 inch is brilliant as I have watched lots of videos about other coils and they don't appear to be any better than the stock coil. I have personally pulled a threepence from 13 to 14 inches and I know someone else that has had better results on the beach with the stock coil pulling silvers at 18 inches. I will let you know how the small coil performs in trashy areas as soon as I try it. Happy hunting !
Posted By: MarkW on February 13, 2012 10:36am
Comments are closed for this post