Treasure Talk
Welcome to Treasure Talk, Minelab's metal detecting blog. We've handpicked the very best and most knowledgeable contributors to present regular metal detecting blogs on topics close to their heart. Plus we're asking you to join in and make it a conversation.
Our bloggers share their product knowledge, detecting experience, personal tips and tricks and anything else they want to discuss that might be of interest to the detecting community.
To contribute you will need to create a Minelab login here.
Back
Back to the Golden Triangle
December 19, 2012 03:20pm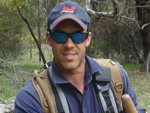 The time had finally arrived! I was on the plane flying back to the Victorian Gold Fields all the way from far North Queensland, meeting up with my old man to spend some time hunting down that elusive yellow metal. I had spent a lot of time gold prospecting around the triangle with my father over the years with both of us uncovering many great finds, so I was very excited to be going back to my old stomping grounds. To add to the excitement I would be swinging a brand new GPX 5000 as I recently traded in my GP 3500. I was also very keen to try out the new Fine Gold Timings on the GPX 5000 after hearing so many great things about this new Timing.
When I arrived home, it was a short, but very welcoming hello to the rest of the family before getting into the Land Cruiser and venturing off to the gold fields. With Dad being an ex 'Tanky' in the 1st Armoured Regiment, his rig is always maintained to a high standard and ready to go bush at a short notice to move. Not far up the road and the gold producing country started to take place with magnificent landscapes the quarts and iron stone outcrops and old diggings that surround the Golden Triangle, it was then I knew it wouldn't be long before the smooth threshold of the GPX 5000 would be humming in my ears.
Arriving at our location, we set up a campsite that offered plenty of shelter and good fire wood so we could trade stories around the campfire at night. With the campsite taken care of it was now time to get serious, before stepping off Dad took me through the settings and functions of my new detector to maximise my results. Dad has been operating the GPX 5000 since they first came out and has uncovered many beautiful nuggets as a result, so I was listening very carefully to everything he was teaching me.
With the old man leading the way through the bush we decided to work a gully that had produced nuggets over the years. With both of us using the best metal detector technology available I was feeling confident. I was very impressed as to how quiet the GPX 5000 was running, even over the most mineralised ground and using a Monoloop coil. Then like music to my ears there it was, that faint but very clear sound that we as gold prospectors love to hear. I moved the top soil with my boot to one side and sure enough the target was still there. Feeling confident I had my first nugget for the trip I signalled Dad to come over. After digging down through the quarts and ironstone wash and into the red clay out came a beautiful 4 gram nugget, I was extremely happy.
With my first nugget in the container I was back into hunting mode before hearing Dad yell out (yea got a nugget here!). I knew he had a nice bit because I could see he had been digging the same hole for quite some time. I raced up the hill to check it out. On arrival I could see that his target was still in the hole. He waved the coil over the almost two foot hole and it screamed! A bit more digging in the hard red clay and outcome a solid 44 gram slug!
As we continued to work up down and around the gully, we both managed to find a few more pieces. Then when I thought things couldn't get any better my GPX 5000 went into overload!I thought to myself if this is a nugget it would be my biggest piece I had ever found! After scraping back the top soil the target was still in the hole! I continued digging down in the gravel wash. It was then I was certain it was going to be gold because I was now down into the red clay. I then decided to put on my head camera and continued carefully digging away. I waved my coil over the hole and it was out. My adrenalin started to kick in as I picked up handfuls of gravel to wave over the coil. On the third handful I grabbed I felt the weight! I didn't even have to wave it over the coil when outcome to my surprise a 107 gram nugget! My hands were shaking. I was over the moon! And to top it off I had it all on camera. A Nugget of a lifetime as Dad pronounced it when I later showed him.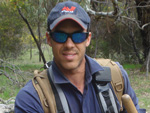 During the rest of the trip we found some more nice pieces including a 16 gram nugget and a few other solid bits. Spending time with the old man in the Australian bush is very enjoyable for me and when the nuggets are coming up its even better! I look forward to going back to the Golden Triangle in the not to distance future to uncover more of that yellow stuff.
Gus James
Comments
Excellent find well done hoping to see some more stories of good finds
Posted By: iris1957 on January 02, 2013 10:31am
Comments are closed for this post