Julian is from Hertfordshire, England and from a young age has always been interested in fossils and antiquities. When aged six he found a mammoth tooth lying by some recent road works and that was it! His passion took off!
Later Julian's interests turned to aviation archaeology and wildlife. He has been involved in some 200 aircraft excavations and crash site searches. It was in the late 1970s that the logical move to metal detecting took place. Julian says "I simply love the honour of being able to handle antiquities and coins from bygone ages".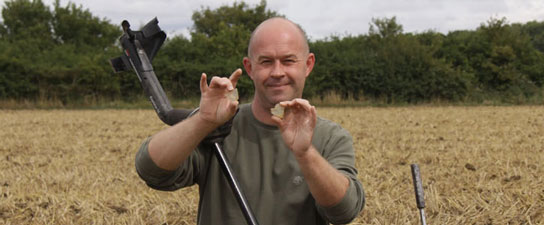 In 2003 Julian co-authored 'The Beginners Guide to Metal Detecting' and writes regular metal detecting articles for 'Treasure Hunting Magazine' and 'Britain at War magazine'. He has also written for several overseas metal detecting/historical magazines in the USA. In June 2007 he wrote and had published the Hertfordshire volume for the 'War Torn Skies' series about aviation incidents in that county. This has since been followed in 2008 by the Cambridgeshire volume (Essex and Beds and Bucks has been submitted for publication) he has also translated a French book for the English market 'The Amiens Raid The Truth'.

In 2007 Julian helped to organise the World`s first ever archaeological excavation of a crashed Zeppelin at Theberton in Suffolk, which was made in to a BBC Timewatch programme. In May 2009 he received the Cambridge Historical Society`s award for Author of the Year in respect of War Torn Skies Cambridgeshire. Then in September 2009 he instigated Time Team's investigation of the Litlington Villa in Cambridgeshire and met many of the 'Team'. This was a success and parts of the Villa were uncovered and plotted for the first time in 150 years.
Julian has had considerable media exposure over the last 15 years being on local and national radio, in local and national newspapers and assisted or featured in several mainstream TV company productions. Julian says "I am always looking out to promote metal detecting".
Julian is currently working on developing a project to involve more elderly persons in the hobby of metal detecting and says "Metal detecting is indeed one of the most intriguing and educational past times available".
Welcome to Treasure Talk Julian!
Brenton O'Brien
Comments
Comments are closed for this post