Finding Civil War military camps from ages past requires a number of things. Among those are firstly, research, which includes books, diaries, maps and time. Secondly, you'll need permission to access land where you feel a camp or camps may be located. Third, equipment! A good metal detector that can handle multiple soil conditions, navigate ferrous trash with good discrimination, and go deep. We can break these three categories into separate discussions, so I'll start with getting permission, something that is paramount to legal metal detecting.

In the USA, it is normally illegal to metal detect in any Federal military park or burial ground. Just having a metal detector in your vehicle while within the park can cause you problems, and possible arrest. Don't do it!!! On rare occasions, the US Park Service has requested the assistance of metal detecting clubs in locating relics during excavation or road work. Your best avenue to this would be to join a metal detecting club or get to know some of the officers that work in the park system. Also, many State lands are closed to metal detecting, so make positive you check before digging.

That leaves private property. There are more acres in the entire world than all of us together could search in our lifetime. A good start to accessing private land is to ask friends and relatives first. You never know what might lie in their yard or farm. Ask them if they know their neighbors, as they may be able to get you permission.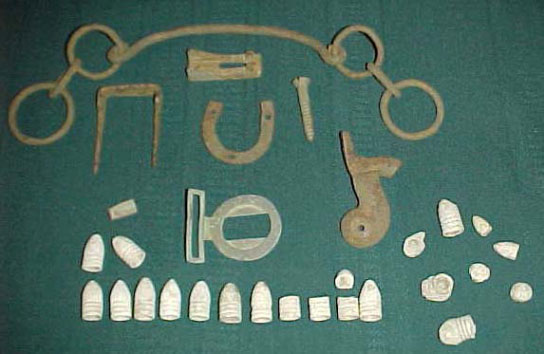 Some Civil War relics found by metal detecting on private land
Sometimes you have to knock on doors. If that's the case, look presentable. Be aware of the cap you may be wearing. If it has a logo that your prospective landowner dislikes, you could be out before you open your mouth. Keep ball caps neutral. In other words, don't wear one with a rival ball club when you're in the wrong area.

Be polite when asking and be prepared to discuss other subjects. Never be forceful or too direct, such as "I wanna dig in your yard" or "I came by to see if I could metal detect your farm". Instead, introduce yourself and explain you've been researching the history of this area, and could it be possible military troops passed through this area? Ask a few questions, then explain you enjoy history and putting together the puzzle of who was here, why and when.

Many times they will give you permission before you ask. If they say no, be polite and thank them for their time. Later on you may stop by and tell them a few things you discovered. Sometimes they will change their minds. Other times they may be cold and rude, but forget about it and keep knocking on doors.

Good hunting,

David Keith
Dixie Metal Detectors
www.dixie-metal-detectors.com
Madison, TN
Comments
Hi David, I recently attended an organized relic hunt at home in Va. It was a very tough hunt to say the least. The ground in my part of the country has very high mineralization, and this property had obviously received a lot of pressure from previous relic hunters. I managed to find a few keepers with my current pulse machine, but for the most part myself and most of the other participants took a pretty good beating. The majority of the finds, including the best artifacts, were recovered by the guys that were using the GPX-4500. Honestly, we were really no competition for them. All, but one used the GPX-4500. Talking with them they were extremely happy with the detector, and apparently have been making some impressive finds.The other gentleman was using the GPX 5000, but apparently had not owned the machine long and did not know a lot about it. Obviously, it is time for an upgrade, but I was not sure which GPX would be most suitable for relic hunting, the GPX-4500, GPX 4800, or the GPX 5000. I would appreciate any advice that you could provide. Thank you - Dennis.
Posted By: DennisT on March 31, 2011 01:12am
Hi Dennis,
You might like to watch our latest video about using the GPX 5000 metal detector for Civil War relic hunting.
You can find this video under our video section.
www.minelab.com/videos
Regards,
Brenton
Posted By: Brenton. on March 31, 2011 05:04pm
Dennis,
I understand that David is away and I have been asked to respond to your questions.
There are a number of Eastern hunters that started with the GPX-4500 less than two years ago that have been unearthing fantastic relic finds mainly because of the advanced circuitry that allowed the GPX-4500 to see through some of the worst ground conditions including much of Culpepper.

When we began development of the GPX 5000 and GPX 4800 there was a great deal of thought that went into the machines from the physicist and engineering staff on creating a complete unit that would include timings that would better suit relic hunters while enhancing the gold prospecting capabilities that Minelab has become famous for.

Which in my personal opinion would be easier said than done. Relic hunters are looking for the very best in discrimination at depths that us nugget hunters have simply said do not matter and we dig everything. They were also challenged to create new timings that would allow maximum depth and sensitivity in soil conditions that were not as challenging as many nugget patches around the world can be.

This lead to the newest members of the Minelab family the GPX 4800 and GPX 5000, now given the areas that you are hunting I would absolutely recommend the GPX 5000 over the GPX-4500 and GPX 4800 for the simple reason of the expanded timings of the GPX 5000 will allow you to better hunt at maximum depth and sensitivity of all of the ground including the clay domes and compaction areas you have to deal with.

One perfect example of this is the "Fine Gold" timing. (I think it should have been called "find everything deeper in the hottest nastiest ground you can hunt in" timing) but I guess that did not fit on the control menu.
The Fine Gold timing in my usage and a small lot of relic hunters that I asked to perform a few test for me is that they have come back stating that the timing is working much better in Culpepper and surrounding areas and is much quieter than the GPX-4500 in a its closest comparable timing. It is a timing that is not available on the GPX 4800 and is proving to be an invaluable tool for recovering history.

Setting the detector up will be very simple in that you should start at a timing designed for less severe mineralization and move up the scale if/when needed to allow the GPX 5000 the ability to use the best timing suited for the ground.

For hunting in a number of Eastern states areas and to have the maximum depth you should start in the "Sharp" timing moving to "Normal" then to "Fine Gold" when necessary to better handle the soil conditions. These are just three of the timings available to you for hunting there are actually two other timings available for even heavier mineralization or in those times when the clays have been moisture saturated.

I hope this helps and I am sure David will have more to add upon his return.
Best regards,
Kevin Hoagland
Posted By: Kevin Hoagland on April 01, 2011 12:29pm
Hi Dennis,
Sorry for the slow reply, I have been out of town. Kevin is spot on with the reason to use the GPX 5000. With relics getting harder to find today, one of the main problems we encounter is highly mineralized soil conditions. Minelab has always been a leader in metal detecting technology, and with their GPX models having the ability to search deep in high mineral soil, this has opened up some difficult ground to metal detectorists whether hunting for relics or gold. You wouldn't be wrong to use a GPX 4800 but having the ability to further adjust to changing ground could give you that extra edge, something we all need when searching for those elusive relics, especially Confederate items. The new video Brenton mentioned is another good way to visualize the GPX 5000's features. The well kept secret is finally out...deep finds are being found with the GPX line. If I can help you again, don't hesitate to contact me. I'm always happy to help a fellow relic hunter.
Good hunting,
David
Posted By: DavidK on April 06, 2011 12:22pm
David and Brenton, thank you for your responses they were both very helpful. I have read about the different functions of each detector on Minelab's web site, but I wanted to be able to make the most informed decision possible. I do the the majority of my relic hunting in Culpepper. The ground there has very high mineralization and has been detected extensively for many years. Relics in my area tend to be very deep and difficult to recover. Most detectors can not handle the mineralization, and those that do can not give you the depth you need. Based on what I have read, I thought the GPX 5000 might be the best choice, but I wanted some insight from the experts. Thank you for all of your help - Dennis.
Posted By: DennisT on April 06, 2011 11:38pm
Hi Dennis, that would be my #1 choice, especially for Culpepper. I know it's quite the investment but with relics in your type of soil, many are still in that bad ground, and the GPX 5000 is proving itself time after time with some great finds, especially those elusive Confederate items. Please be aware there have been some knock-off GPX 5000s coming out of China. They look very similar to Minelabs, even down to the box. When in doubt, call me or contact Minelab to verify you're buying from a Minelab Authorized Dealer.
Good hunting,
David
Posted By: DavidK on July 20, 2011 10:40am
Hi im from the NY/NJ area. Im new to metal detecting and would like to know where to "detect" in the NY/NJ area, possibly with a "metal detecting club" or "person" or even without in these states. I find myself in the upstate NY area "Catskill" and further north region from time to time but i reside in NJ. any help with these areas would be appreciated thank you ,John
Posted By: johnnyb on September 28, 2011 04:36pm
Hi John,
Call or email some of the local dealers in your area and ask them about any clubs near you. Another way is to check the treasure mags for club listings in the classifieds. That should lead you to any clubs that are close enough for you to join. Also, research is a major part of detecting. Check your library for county history. There will be a wealth of free information at your finger tips.
Good hunting,
David
Posted By: DavidK on September 28, 2011 06:00pm
Comments are closed for this post