2019
Мой маленький клад
X-TERRA 305
January 03, 2019 08:38am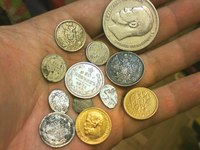 Только что увидел форум где делятся находками и опытом и решил поделиться своей. Про кладоискательство я узнал не давно, от своего друга. Он купил себе металлоискатель x-terra 305 и каждые выходные ездил на поиск. Я решил попробовать и попросил его одолжить Детектор . Посмотрев по карте где раньше была деревня, которой уже нет в наше врямя, я отправился в путь.
После двух часов поиска я уже начал расстраиваться, что нет находок, но все-же удача мне улыбнулась. Мои первые находки были серебряные и золотые монеты времен правления Николая 2 и Иоана Грозного.
Моей радости не было предела.
Друг даже не поверил, что я нашёл пока не увидел сам.
Теперь коплю деньги на свой металлоискатель, что бы продолжать это хобби. Пускай дорого стоит металлоискатель, но он того стоит. Надеюсь к весне накоплю денег
I just saw a forum where they share finds and experiences and decided to share theirs. I found out about treasure hunting not long ago, from my friend. He bought himself an x-terra 305 metal detector and went to search every weekend. I decided to try it and asked him to lend Detector. Looking at the map where there used to be a village that is no longer in our time, I set off.
After two hours of searching, I began to get upset that there were no finds, but all the same luck smiled at me. My first finds were silver and gold coins during the reign of Nicholas 2 and Ioan the Terrible.
My joy knew no bounds.
A friend did not even believe what I found until I saw it myself.
Now I am saving money on my metal detector to continue this hobby. Let expensive metal detector, but it's worth it. I hope to save money by spring.
Aleksey - Russia
Comments
To make comments you must be logged in, please note comments will not display immediately due to moderation
Back to List