18 Sep 2017
Pending release of new PRO-FIND Series Pinpointers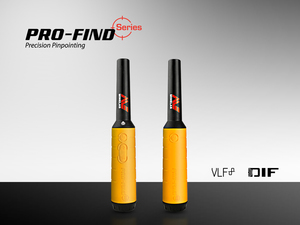 Minelab is pleased to announce the pending release of our next generation PRO-FIND Series Pinpointers.
PRO-FIND Series Pinpointers assist in accurately locating targets at the point of extraction where a metal detector coil cannot fit. This results in smaller holes, less environmental disruption and faster target recovery time.
There will be two new PRO-FIND Pinpointers available, the PRO-FIND 15 and the PRO-FIND 35. The existing PRO-FIND 25 model will be discontinued when the new models are available.
The PRO-FIND 15 offers essential core pinpointer features and is designed for simplicity and ease of use. The PRO-FIND 35 provides premium level functionality in a fully waterproof design for the serious detectorist. Both models use VLF transmission and incorporate Minelab's unique Detector Interference Free (DIF) technology.

Splash proof design
Audio indication
High visibility
Holster included

Ferrous Tone ID
Waterproof to 3m (10ft)
Audio & vibration indication
Adjustable sensitivity
High Visibility
Holster & lanyard included
Battery included
Further product details and product availability will be announced in the coming weeks, on minelab.com and the Minelab Facebook page.