2016
The Treasure Hunting Duo Hit The Waterfall
CTX 3030
August 06, 2016 03:20am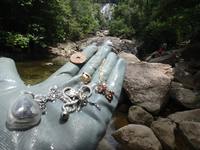 Last Friday was a school holiday here in Thailand. I asked my 6 year old daughter what she would like to do for the day and her answer was swimming. It has been rather hot here lately so I though hitting the waterfall would be a better choice over the beach.
We went to a famous waterfall named by the Queen of Thailand, Phrai Sawan Waterfall.
I took the CTX 3030 along just in case I could snag some treasure in-between relaxing and playing with my daughter. In the end, my daughter joined in and was the recovery expert for me.
The pirate due did very well and walked away with some nice treasures, some not pictured.
22kt earring.
18kt ring.
Part of a gold necklace (not sure of carat).
Gold plated ring.
4 silver rings.
2 silver bracelets.
Part of a silver necklace.
A couple of amulets.
An old 5 Satang, 1913.
Couple more old coins.
Lots of kids' jewellery.
Stefan - Changwat Trang, Thailand.
Comments
To make comments you must be logged in, please note comments will not display immediately due to moderation
Back to List