Gold Stories
Gold Stories
See fantastic Minelab finds from our users or share your very own Minelab Success Story. We'd love to hear what people are discovering with their Minelab Detectors.
By submitting your story, you enter the Find of the Month competition where we give away a USD 250 voucher in Minelab products and assorted Minelab branded accessories to the winner.
Submit your story here.
GPZ 7000
August 02, 2018 02:24am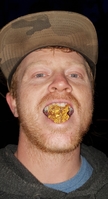 On Sunday the 29/07 I had organized a day trip with my mate matty back to a spot in vic that I had found a week earlier on a solo mission. I got a few multi grammers that day so matty ...
GPX-4500
July 27, 2018 01:14am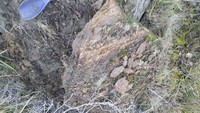 The day was off to a cool start, I left home and at the time I think it was -5 degrees Celsius and very Icey on the road, black ice everywhere. I was in a thick fog when I left home to head to a friends place to pick him up but that cleared up about halfway to his house, it was about -2 when I got there I think and nowhere near as Icey up his way. We jumped in the car and off we went, the roads were much better up his way as it was nice and sunny.
EQUINOX 800
June 27, 2018 07:08am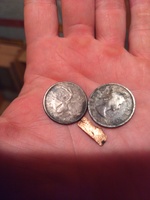 I live in Canada B.C and have been looking for nuggets for some time with no success. In my search I have traveled to many destinations throughout B.C and the Yukon territories without any luck. I recently ...
GOLD MONSTER 1000
June 20, 2018 09:37am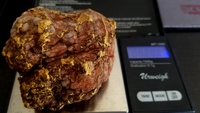 This is only a teaser of the 420 nugget , I'm still working on the complete episode, so stand by for that. It was found in what everyone thought was almost hunted out!!! you know how that goes, who knows how ...
GOLD MONSTER 1000
May 30, 2018 10:51am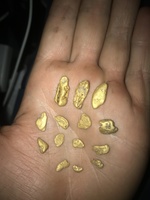 You can just imagine how my hands were shaking after this little gold bonanza. Biggest nugget weighted 2,9g! Approximately 1/2 oz altogether! Some of them were just lying on the surface, waiting for someone -me- to pick them up. At the ...
GPX 5000
May 24, 2018 05:53am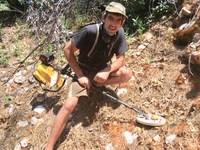 A good friend on mine had just passed away, Kyle Mason. So I headed out for a week long mining trip dedicated to him and his love for nugget hunting. Once my friend James and I arrived at our location ...
GPZ 7000
April 02, 2018 02:17am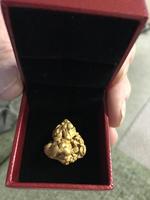 While spending my winter in Southern Arizona I spend lots of time detecting the old placer diggings and mine areas. One day in March 2018, I was working my way down a seasonal desert drainage that been worked many years ago.
GOLD MONSTER 1000
March 26, 2018 09:51am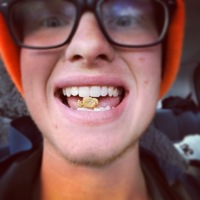 Since I first got into prospecting for gold around Christmas, the Gold Monster 1000 has given me much pleasure and plenty of nice nuggets. A few days ago, when I went out detecting I got lucky. The day started out quit ...
SDC 2300
March 14, 2018 06:11am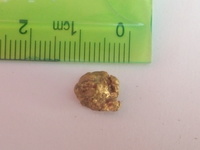 I am geologist I traveled to one of the gold exploration projects to drill. When I go there, I bring SDC 2300 with me. After the one week, I traveled folk wedding to the village. The villager told me ...
GPZ 7000
January 04, 2018 08:35am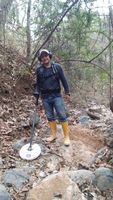 Tras una semana de exploración pude hayar mas de 6 pepitas de oro con mi detector Minelab GPZ 7000. Mi gran satisfacción fué encontrar en el ultimo día de exploración una gran pepa ...
Found 268 Results, displaying 1 to 10