27 Sep 2016
Longest serving Minelab dealer retires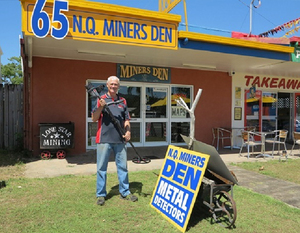 Minelab, the world leader in providing metal detecting technologies, today announced that George Mayer, the owner of North Queensland Miners Den in Cairns, Australia is retiring. He will be closing his store on September 30th 2016.
George has been selling Minelab metal detectors since 1988 and is Minelab's longest serving dealer in Australia. We appreciate his contribution, loyalty and hard work to grow the Minelab brand by providing an excellent service to our customers in North Queensland.
Our customers in North Queensland will continue to be served, Peter Cragg has purchased the business and will be establishing a new Minelab Certified Dealer based in Townsville, under the name of Townsville Prospecting World. The new store will open in November as a specialty prospecting and detecting Minelab dealer servicing North Queensland. Peter is known to Minelab customers as the owner of Gold City Detecting in Charters Towers, QLD which will continue its operations as usual.
We are mindful of supporting our Cairns customers so all calls, emails, web enquiries, that go to North Queensland Miners Den will be forwarded to the new dealer. In addition, Townsville Prospecting World will be offering free delivery to Cairns and surrounds.
In conjunction with Peter Cragg, we are also continuing to look at options for a physical presence in Cairns in the near future. George has done a lot for the industry in North Queensland and will be missed, however we know that Peter Cragg will continue the high level of service for which he is known throughout the region.
For any further enquiries, please contact:
Fraser Kendall
Minelab's Regional Sales and Marketing Director – ANZ
Email address: Fraser.Kendall@minelab.com.au
Phone number: +61 8 8238 0805