27 Jul 2016
Finding Gold in the Adelaide Hills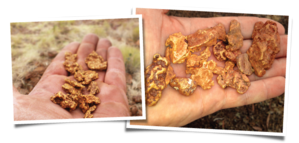 We are pleased to notify you of a 4 minute segment on the Adelaide Hills Gold Rush that was broadcasted on Tuesday, 26 July 2016 on Today Tonight Adelaide.
Filmed in the Adelaide Hills, the segment features Peter Charlesworth, General Manager of Minelab, talking about Minelab's technology and superior performance: "Our patented technology, [and we are the only ones in the world with this], enables the machines to punch through that mineralisation to be able to find the metal. It turns out that, in particular, gold nuggets are often located where there is mineralised soil."
There is over half a billion dollars in gold waiting to be dug up!
For more information about Minelab Gold Detectors and technologies, click here.
Video Credit: Today Tonight Adelaide Show.