26 Feb 2016
New Product - PRO-GOLD Premium Panning Kit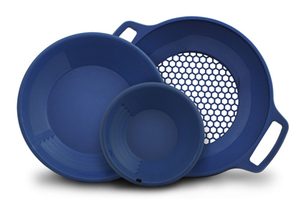 Minelab is pleased to announce the introduction of our PRO-GOLD Premium Panning Kit. This kit has everything a beginner needs to get started and the individual pans provide the experienced user with several gold panning advantages. The PRO-GOLD pans have multiple panning zones for maximum gold recovery and come in high contrast blue for optimum gold visibility!
The Main features of the kit are:
Two premium pans & classifier (everything you need)
Dual riffle gold capture (coarse & fine – traps all the gold)
High contrast blue (see the yellow gold easier than any other panning kit)
Compact nested design (easy to carry & transport)
Carry bag & accessories (magnet, magnifier, & more…)
---
These gold pans have been tested by 'pros' in USA and Australia, with great results…
"In my opinion the Minelab PRO-GOLD panning kit is vastly superior to any other gold panning kit on the market and is my recommendation for both beginners and experts."
- Steve Herschbach, USA
---
The PRO-GOLD kit will be on display at the Minelab Wedderburn Detector Jamboree 2016, being held on March 12th-13th, and available for sale from our dealers from mid-year. The two pans and classifier will also be sold separately.
Part numbers for the kit and individual pans:
| | |
| --- | --- |
| PRO-GOLD Panning Kit & Accessories | Part. No. 3011-0325 |
| 15-inch Pan | Part. No. 3011-0326 |
| 10-inch Pan | Part. No. 3011-0327 |
| Classifier | Part. No. 3011-0328 |
More details are available on the PRO-GOLD Accessory webpage here.
Download the PRO-GOLD product brochure here.
Download the PRO-GOLD Getting Started Guide here.
Please contact your local Minelab dealer for full details of pricing and availability.