2013
On the beach with the Eureka Gold and PRO-FIND 25
Eureka Gold
March 25, 2013 11:35am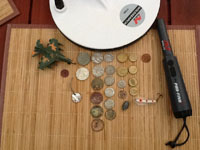 Back on the beach today on the Mornington Peninsula with my Eureka gold and I brought my little friend, the Minelab PRO-FIND 25. It's the first time I have used it, and I must say it works like a treat.
Pinpointing targets was so easy and cuts my recovery time, which leaves me more time for detecting. I have used other brands, and I can say the PRO-FIND 25 should be on the top of any detectorist's list.
I was happy with my little finds and wrapped with a 1955 Sixpence. Anyway, all the coins I find I will save them to buy myself another Minelab detector, a CTX 3030. Next week is Easter and I am hitting the gold fields in the golden triangle with my GPX 5000. I Can't wait to try the PRO-FIND 25 in the bush.
Here's a photo of my find today with my two beach buddies the Eureka Gold and the PRO-FIND 25.
Cheers.
Goldrush - VIC, Australia
Comments
To make comments you must be logged in, please note comments will not display immediately due to moderation
Back to List