2013
First time with my Eureka Gold at the beach
Eureka Gold
March 08, 2013 02:35pm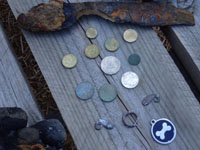 At Barown heads Victoria on the weekend, thought I'd do some detecting on the beach with my detector a Eureka Gold that I have had for about 4 years. Instead of fishing for fish I thought I would try fishing for coins.
To my surprise the Eureka Gold worked very well. Dry sand wet sand and even in water. I was using a gold search DD "11 . A bit of chatter at the start adjusted the threshold and the sensitivity and back on the hunt. You need to take your time to understand the settings and sounds and it works a treat.
After an hour I could pick what I was finding before I dug it up, (about 90% anyway). Don't need to buy anymore tent pegs that's for sure.
This is what my settings were: Frequency 6.4. Fast track in dry sand slow track in wet sand and water. Signal Normal or Boost if it was very quiet. All metal (I like to dig everything ). Threshold as low as possible adjust when needed. Sensitivity as low as possible adjust when needed. Tone personal choice or when it sounds loudest for you. Hope this helps other Eureka Gold owners.
I will be hitting the beaches again this weekend . I also have a GPX 5000 I have never used that on the beach yet but I will , but I am wrapped with my little Eureka Gold at the moment . Here are my little finds . Cheers.
Goldrush - VIC, Australia
Comments
To make comments you must be logged in, please note comments will not display immediately due to moderation
Back to List