2013
Father and Son Mississippi Camp Hunt
GPX 4800 & GPX-4500
April 05, 2013 04:50pm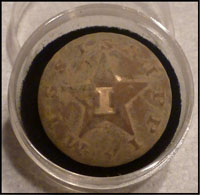 My dad and I finally secured permission on a known Mississippi camp from the Civil War. Many great Confederate buttons have pulled recovered from the site but we wanted our chance. My dad, Cris, armed with his GPX-4800 and I with the GPX-4500 walked out into the pasture where he stated that he was ready to start swinging. I moved away so as not to interfere.
Before I could turn on my machine he had gotten a good target in his first swing. He pulled a beautiful Mississippi "I" Button with a Hyde & Goodrich N.O. backmark - his first Confederate button!! He looked like a kid on Christmas morning opening a Red Ryder BB gun.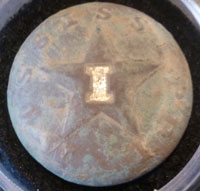 I went back to the large field a few times finding my first Confederate sheet brass plate and some bullets. I went back to the area where Dad's button was found and went very, very slow along the crest of the hill. I heard a "warble" signal that I've also heard called the "turkey gobble" which more times than not has been a pleasant surprise. I popped out my first MS "I" Button with an H&G N.O. backmark.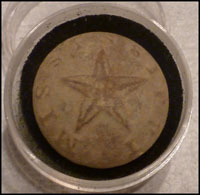 I walked 10 feet further and after getting a very cool carved Enfield bullet I hit another "warble" signal. I didn't think for a second that there was another one but it popped out and I think I let out a yell! This MS "I" button had lines down the points of the star and no shank or backmark - a very rare local manufactured button. I was floating on cloud nine.
I went back the next day and within 30 minutes there was a target that sounded like a soda can. I recovered another H&G MS "I" button! I've been back a few more times and recovered a MS "I" cuff as well.
I've taken some friends there and one day I hope they can get their first MS buttons...maybe one day.
Rocky - VA, USA
Comments
To make comments you must be logged in, please note comments will not display immediately due to moderation
Back to List