2011
A Tale of Two Timings
GPX 5000
September 01, 2011 01:00am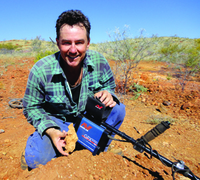 I had spent the last week in April getting all things ready for my annual trip in the Pilbara, specifically Nullagine. The trip North is usually a month or more depending on gold. I chose to leave a little earlier this year to give the GPX 5000 a good test on some familiar ground to me, where good gold had come before. Also the fact that my prospecting mate was busy in the East, and was not able to join me for a few weeks.

Upon reaching my first spot late afternoon, I set up camp and prepared for the next day. I set the detector up with my mono coil as I prefer to work mono coils. I find the GPX 5000 to be really good in 'Fine Gold Timing' but when areas become very mineralised a simple change to ' Enhance Timing' really has the edge.

I was picking up consistent gold in some of my old areas; pieces up to six grams. While detecting these areas I was thinking of any spots where in the past the ground was noisy and showed depth.
I was happy with my first weeks results and remembered an area that I had been over previous years and managed to always get pieces with each new model of detector. The area has seen a lot of detection and had been pushed with machinery numerous times.
Comments
To make comments you must be logged in, please note comments will not display immediately due to moderation
Back to List