2013
A coil/detector combo worthy of diamond and platinum
CTX 3030
April 02, 2013 12:05pm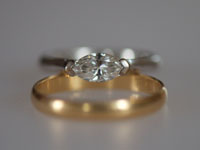 After a long while without going out (busy schedule with a little new comer in the family who is now 5 month old... and the two others...) I decided to cover myself well in order to see if the storm brought something in, the sand of the beach not far from my home as been wiped out as a consequence of the huge swell from the previous days.
Jumping on this opportunity, I decided to take my new CTX 3030 equipped with the CTX 17' Smart Coil freshly out of the box. The beach is vast and free of trash so this coil will allow me to cover more area and maybe find more interesting spots.
Now I am here, under the heavy rain, fighting against the wind and sometimes even hails. What a pleasure, luckily the CTX 3030 is waterproof and testing my new 17'' coil makes me forget the bad weather.
Out of 3 hours of detecting, it's only after 2 hours and about 2 kms according to the GPS that I found an interesting spot where coins were popping out together with a bit of lead.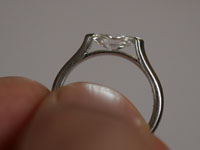 This large coil is very efficient, a bit too much sometimes, like when you end up digging 80 cm deep holes to find a copper construction plate or when you try to find 3mm tiny pieces of copper rivet. I focused on the most interesting signals and got a 3g gold wedding ring with a handful of old Francs centimes. I was going to call it a day as I felt water trickling on my back when I suddenly found an engagement ring in platinum with a 0.7k Marquise diamond. I was delighted, this detector is awesome on the beach !!!
It was a real pleasure for me, I was frozen, my face was stormed by hails, I was soaked from top to bottom. My wife thought that I was crazy but she changed her mind when I offered her the ring, I was kind of happy with my little trick. That was my experience.
Thanks for reading.
Xaho - France
Comments
To make comments you must be logged in, please note comments will not display immediately due to moderation
Back to List