Sometimes I get asked, "What should I look for when metal detecting that will tell me there is gold present in the ground?" I always respond that I wish there was a simple, easy answer. The problem is that gold occurs in many types of deposits, and what indicators work great for one type of deposit don't always work well for another. As an example, in some places the presence of vein quartz on the ground is a valuable indicator, yet I have been in places where there is so much vein quartz everywhere that is worthless as an indicator, and other places that have good gold but are essentially devoid of any vein quartz at all.
Here is a listing of some common geologic indicators that you can look for which will be helpful in many cases, but not in all.
Color Changes: In many districts, acidic mineral solutions have bleached the area rocks to a lighter color. This can be an indicator of gold.
Iron Staining & Gossans: Not all veins produce much quartz – gold bearing veins can consist of calcite or mostly sulfides – which often weather into iron stained spots when the pyrites convert to iron oxides. Large amounts of iron oxides like hematite, magnetite and ironstone can be favorable indicators.
Quartz Vein Matter Accumulations: At times, small accumulations of quartz vein material can indicate mineralization in the area. This is a very common indicator.
Productive Rock Types: The concept of favorable host rocks is an important one, but the types of rock which constitute "favorable" can vary a lot from one location to another and can be significantly different.
Rock Contact Zones and Faults: Many quartz veins and other hard rock gold deposits occur in "zones" along faults or at the contact of two different types of rock.
Correct Topography: As a general concept, the coarser gold does tend to hang up farther upstream. In the deserts, most of the best residual placers form in areas with moderate to flat slopes.
Extensions of Known Mineral or Placer Areas: Other than pipe shaped bodies, most small scale gold deposits have a linear component. It is fairly common that new deposits can be found along this linear zone of deposition by looking for extensions along the line of deposition.
Similar Geologic Areas Nearby: If a certain rock type or geologic environment has been productive for gold in one area, and the same rock type or environment occurs a few miles away in the same mountain range, it may well be worthwhile to investigate.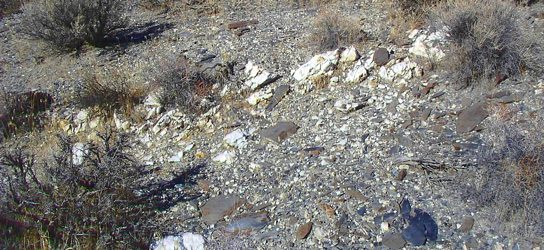 Outcrops of quartz vein matter among slabby slate rock as pictured here, is a fine geologic indicator that gold could be found nearby
Know Your District
The geologic concepts and indications that are the most important for finding gold vary from location to location. There is no one indicator of gold that always works. What works well in one district may not always work so well in another. In one place a certain type of rock may host all the deposits. In another district the most important may be areas colored red by high iron concentrations. Perhaps the most important thing in prospecting is to know the characteristics of the district you are hunting! Like sports, there is a home court advantage for prospectors who have learned the particulars of the district in which they are working.
Chris Ralph
Chris Ralph's Prospecting Encyclopedia
To find information on Minelab's wide range of gold detectors click here.
Comments
Thanks for posting Chris.
Really enjoyed your book and would recommend it as bible for all those who go gold detecting.
Hopefully see you again one day.
God Bless

Gary
Posted By: garybrun on October 26, 2011 10:19pm
Comments are closed for this post