RSS Feed
Events
21 Oct 2012 - 21 Oct 2012
First International rally in Spain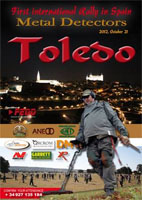 From the Spanish Federation of Sports detection we are pleased to announce that the next day will be held October 21 in Toledo The first meetings organized by the International Concentration FEDD.
The event will take place at the Villa de San Bernardo.
For more info visit
http://www.federacion-fedd.org/detectoaficionados/home.html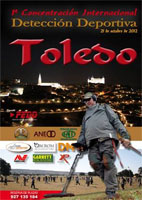 Desde la Federación Española de Detección Deportiva tenemos el placer de comunicaros que el próximo día 21 de octubre se celebrará en Toledo la 1.ª Concentración Internacional organizada por la FEDD. El evento tendrá lugar en la Finca de San Bernardo.
Es un evento internacional y se contará con la participación de las asociaciones de diferentes países como: Bulgaria, Italia, Bélgica, Estados Unidos, Francia, Reino Unido y naturalmente de España.
Para obtener más información
http://www.federacion-fedd.org/detectoaficionados/home.html