Treasure Talk
Treasure Talk Team
Mark Williams
RSS Feed
Treasure Talk Team
Treasure Talk
< Back
Mark Williams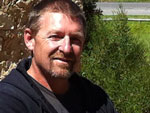 At the age of 25 Mark bought his first Minelab Eldorado MkII and with grand visions of great riches to be found he was hooked well and truly on metal detecting. Mark soon discovered that the world of coin & relic hunting was not just about the lost riches that are out there but the many different areas of history that can be learned by researching something he has found.
Mark has been very successful over the years with some amazing coin & relic finds. This year Mark has upgraded to a Minelab E-TRAC which has enabled him to move to a new level of coin and relic hunting, more than quadrupling his finds. Mark says it is very hard to name a favourite find, however he would lean towards an ornate cricket buckle from the mid 1800's for relics and his latest addition of an 1850 Victoria half crown for coins.
You can find Mark's own blog; www.coinrelicdownunder.wordpress.com to have many useful tips and encouraging stories of successful hunts.
Found 16 Results, displaying 1 to 10